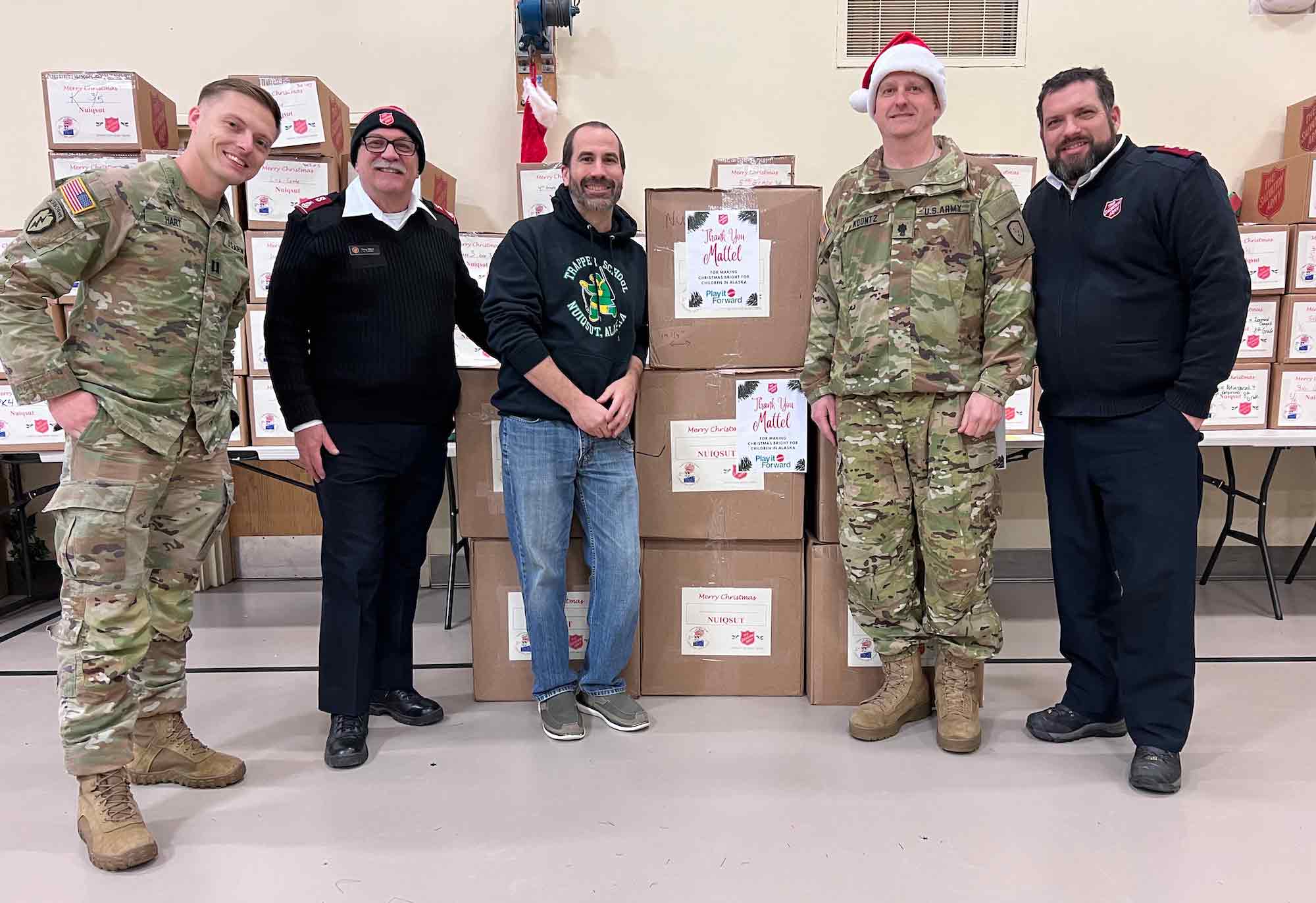 Toys bring Christmas cheer to children in Alaska's remote villages
Partnerships help The Salvation Army deliver the spirit of the season.
It's not every day Santa comes to town, but for children in Nuiqsut, Alaska, he and Mrs. Claus arrived Nov. 29 aboard a C-130 Hercules.
This year, Nuiqsut was one of three Alaskan communities selected, along with Scammon Bay and Minto, as part of the Alaska National Guard's Operation Santa Claus (Op Santa), which has aimed to deliver the joy of Christmas to remote villages throughout Alaska for 53 years.
Each year, The Salvation Army partners with the Alaska National Guard to collect and pack gifts for the missions. This year, 585 kids across the three villages received gifts delivered in backpacks donated by Costco.
In addition to the backpacks, 300 toys from Mattel, including all of the beloved brands like Barbie, Hot Wheels, Mega and Fisher Price toys were aboard the plane to be given to kids in Nuiqsut.
"Mattel has been such a generous and loyal partner to The Salvation Army over the years, providing thousands of toys to children at Christmas and beyond," said Territorial Director of Corporate Engagement Maria Todaro.
"They are committed to helping us make sure any Angels who may not be adopted through our Angel Tree program, still receive a gift. We are so grateful that this year Mattel is helping to make sure children in Nuiqsut, Alaska, will have a little extra love under the tree."
The toys from Mattel were given to the Nuiqsut Trapper School (preschool-12th grade) that distributed them to the kids as part of their Christmas program.
"It was a blessing to have the Mattel toys to be able to give for the kids to have something for their Christmas event," Alaska Divisional Business Secretary Captain Kevin Pope said. Mattel also donated toys to other remote Salvation Army locations throughout Southeast Alaska, including Haines, Kodiak, Klawock and Kake.
Mattel Children's Foundation Senior Foundation Specialist Brittany Cruickshank said she was working with The Salvation Army team in Southern California as part of the Forgotten Angels program, when unclaimed Angel Tree tags are fulfilled with toys, when she first learned of Operation Santa.
"They let us know that this project was happening, and without a second thought, we said we had to be part of it," Cruickshank said. "We called up our warehouse and we said, 'How quickly can we get toys on a plane and up to Alaska?' because we wanted to get there in time."
Cruickshank said when she called the warehouse, she told the team: "We need you to be Santa."
"They didn't even blink," she said. "They were like, 'We're going to get it happening right now.' That just shows you how dedicated our team is."
Once the toys arrived in Alaska, Pope said he dropped them off at the Air Guard base so they could be put on the same pallet as the rest of the gifts from Operation Santa.
"We really wanted to help bring our iconic brands and toys to the kids who need it most in rural areas such as Alaska," Cruickshank said, adding it's all part of Mattel's mission to empower the next generation to explore the wonder of childhood, and to reach their full potential.
"We really get to come in and be that sense of comfort and to bring play when kids need it most," she said.
For the journey to Nuiqsut, Pope said 32 people were aboard the flight, including members of the National Guard, the media, representatives of longtime partners Costco and Tastee Freez and five individuals from The Salvation Army.
This year marked the first year since the beginning of the pandemic that the gifts were distributed in an in-person event, Pope said. Tastee-Freez served up ice cream sundaes to the kids while they were waiting to visit Santa, and Pope said members of the village performed dances.
This year, Pope said about 190 kids in Nuiqsut received toys, stuffed animals and school supplies at the event. Nuiqsut, a city that reported a population of 542 in 2021, was the third and final mission of the season, and is located in one of the northernmost reaches of the U.S., about 30 miles from the Beaufort Sea.
"When they saw the backpacks, they were super excited to get their toys and they went and opened them up right away," Pope said.
---
Do Good:
You've probably seen the red kettles and thrift stores, and while we're rightfully well known for both…The Salvation Army is so much more than red kettles and thrift stores. So who are we? What do we do? Where? Right this way for Salvation Army 101.
What cause best fits your personality? Take our quiz and discover where you can make the biggest impact today in the Fight for Good.
Learn more about Operation Santa on The Do Gooders Podcast