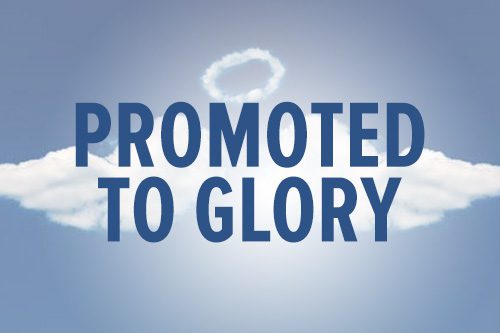 Major Enma Orellana
Dec. 3, 1952 –June 25, 2020
Major Enma Orellana was promoted to Glory June 25 from Tucson, Arizona.
Enma L. De Leon was born Dec. 3, 1952, in Catarina, San Marcos, Guatemala, to Vicenta Sandoval and Porfirio De Leon. She was the oldest of four children. 
At age 18, she was devastated upon witnessing her beloved father's murder. Her life had been difficult up to this point, and the strength she had developed over the years helped her through this tragedy. Providing and caring for her sisters became her motivation. 
De Leon married Hector Orellana, and they shared 36 years together. They had four children: Angie, Rolando, Glenda and Willy.
In 1980, Enma Orellana fell in love with Christ, and she held on to every promise of restoration. At this point, Hector Orellana's life was filled with addiction. In 1982, God gave Enma the courage to step away, and with her mother's support she immigrated to the United States. Her mother introduced Enma to her church, which later became The Salvation Army Hollywood Corps. Here, Enma's love of Christ grew as she served others through the Home League ministry. Eventually, Hector Orellana reunited with his family; Enma had prayed for 10 years for his restoration.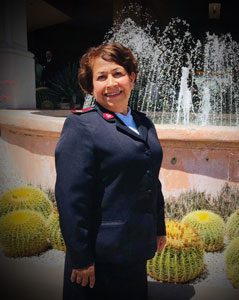 The Orellanas served for 22 years in ministry with The Salvation Army, becoming auxiliary captains, and then captains and majors. They are listed with the pioneers of Hispanic ministry within Southern California. Together they served in Santa Fe Springs, El Monte and Burbank, California; Denver;  Salt Lake City; and South Tucson, Arizona. After Hector Orellana was promoted to Glory, Enma continued in ministry for an additional seven years in South Tucson. Altogether, she served that community for 18 years.
After she retired in January 2018, Enma Orellana continued serving; for her it was a way of life. Her passion to share the gift of Jesus led her to cross the border into The Salvation Army Mexico Territory, where she helped establish the Nogales and Hemosillo Corps. In December 2019, this support was recognized by Mexico Territorial Commanders Commissioners Oscar and Ana Rosa Sanchez.
Enma Orellana also supported The Salvation Army in Tacpan, Guatemala, where she helped restore part of the camp. In addition, she contributed time and finances to many local ministries. Casa Maria Soup Kitchen in South Tucson was her last place of service and ministry. 
During the pandemic, Enma Orellana was a faithful soldier of Christ who stepped into the trenches to assist those in need. Trusting that God would go before her, she was obedient to what the Lord placed in her heart. Her passion to share Christ's love and serve others was ignited even more during this time.
Her last trip to replenish food and essential supplies to the Nogales Corps was May 25. On June 3, she added the final gem to her Crown of Glory when she introduced Nancy, an emergency room nurse, to Jesus. 
Major Enma Orellana's ministry of love and passion to serve others will be remembered by all those to whom she ministered, and by her children, grandchildren, siblings and mother. 
A celebration of life service took place July 1 at the All Nations Corps in Tucson, with Colonel Olin Hogan presiding.