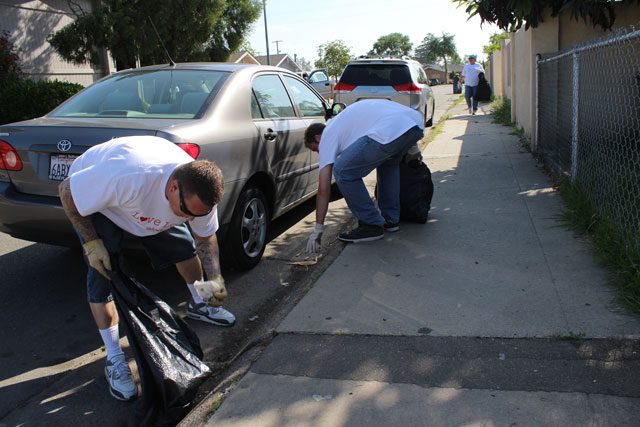 Salvation Army spearheads 'Love Lodi' service projects
Over 200 Lodi residents participated in the first ever "Love Lodi" volunteer event on April 12, to help clean and restore parts of the Lodi community.
The Salvation Army of Lodi served as lead agency for the day, working alongside several other churches, service groups and nonprofits.
"I thought this would be a perfect project for us," said Capt. Martin Ross, Salvation Army Lodi Corps officer. "This is one way to impact the community. "
Love Lodi accounted for 15 total service projects, including: painting at The Salvation Army's Hope Harbor Shelter, installing fire alarms, gathering loose shopping carts off the streets and collecting trash in residential areas.
"This event makes me so proud to be in my town," said Steve Schwabauer, City of Lodi interim city manager. "People do come together here and try to make a difference. This is really just an epitome of what this city is all about and what it does to care for itself. [I] greatly appreciate Salvation Army's effort for making these types of events happen."
Juanita Palaganas, who volunteered to pick trash at neighborhood alleys, used the opportunity to engage some of Lodi's younger residents.
"I did this because it's for a good cause," Palaganas said. "Young people could see us cleaning up and maybe they can ask us what we're doing. We talk to them and tell them why we're giving back."
Love Lodi is an adaptation of Love Modesto, which Ross participated in during his appointment at Modesto Corps. Since its 2009 inception, Love Modesto has grown to over 4,000 volunteers in its recent April 5 service day.
"We saw the success in Modesto, and I knew Lodi can do the same here," Ross said. "Judging by the people here and their enthusiasm, we're off to great start."
________________________________
Check out more photos on The Salvation Army USA West's Flickr page here