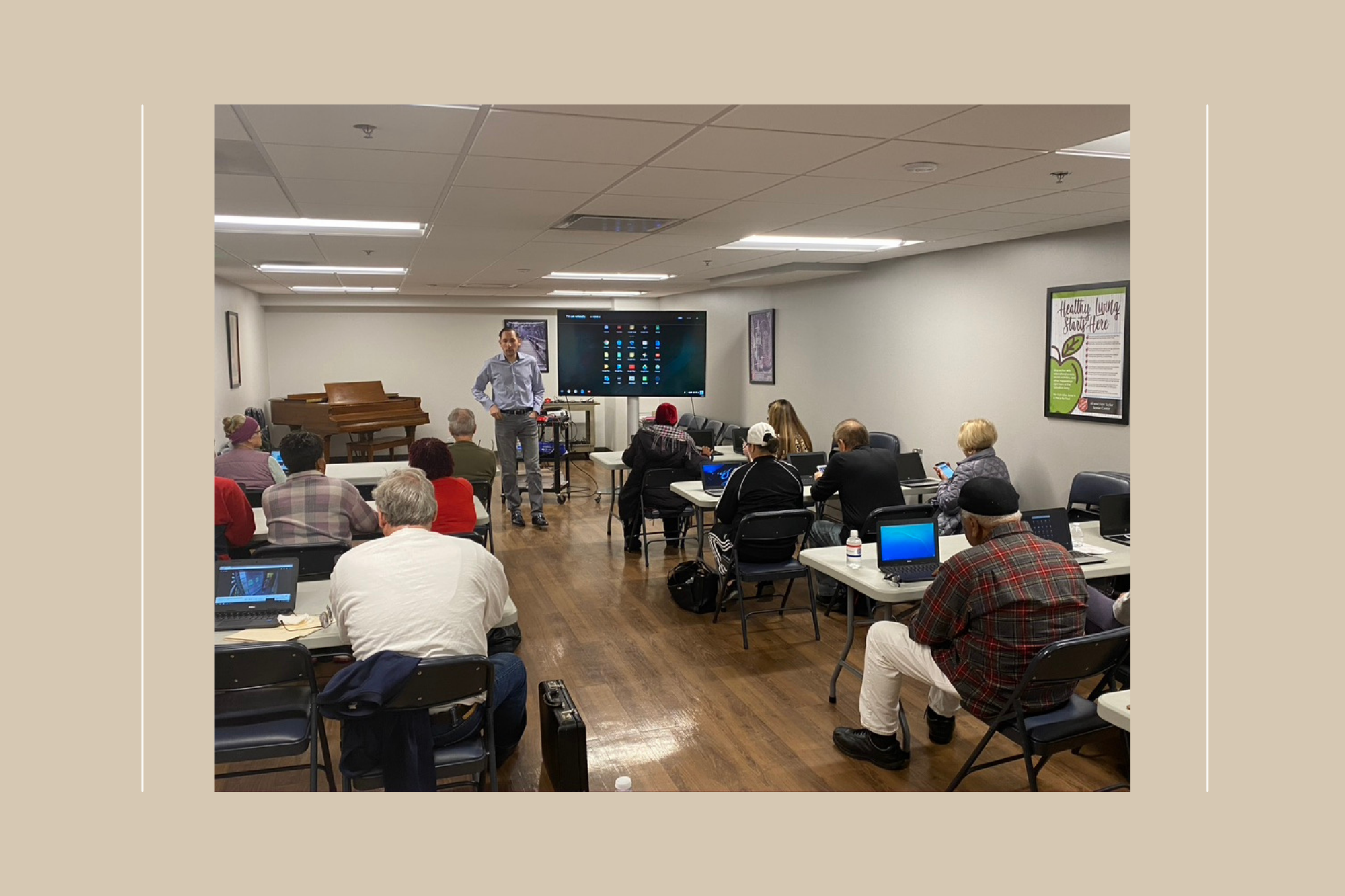 Long Beach Red Shield Center partners to help adults gain skills for the workforce
The Salvation Army Red Shield in Long Beach, California, is back to providing adult education opportunities for the community in partnership with Long Beach City College (LBCC). The two teamed up in 2019 to offer English as a Second Language (ESL) and computer information competency courses at the Red Shield facility, but soon after, the pandemic put everything on pause.
Now, after a hiatus, in-person courses are back. And both partners are focused on setting the Long Beach community up for workforce success and improving their quality of life through education.
"[We] have the facility and the people. They have funding. They have the teachers. They have the expertise," said Melinda Lankford, Long Beach Red Shield Director of Programs and Development. "If we bring those things together, then it's a win for everybody."
Melissa Infusino, Long Beach City College Director of Workforce Development, echoed the value of bringing adult education offerings to The Salvation Army.
"We were looking for community partners that really reached segments of the population that maybe hadn't considered going to college, were looking to return to college, or really didn't need college credits but needed certain skills," Infusino said. "And being able to partner with different trusted folks in the community, like The Salvation Army, allowed us to access different communities that we may not have already been reaching out to through our normal channels. It was important for us to be able to partner and bring services from the college out into the community."
The program opens access to non-credit courses taught by LBCC instructors at the Red Shield. In addition to ESL and computer information competency, the hope is to expand to other classes — such as cake decorating and financial literacy.
"We are looking for classes that would be low-barrier for our students," Lankford said. "All of those [classes] give them a better quality of life."
But current course offerings are already leaving a lasting impact for students at the Red Shield. Pedro Hernandez, Latino Ministries Coordinator at the Long Beach Red Shield, is a student in the ESL class. He has participated in the course multiple times.
"[The instructor] is very accessible and understandable and he teaches well," Hernandez said. "My goal is to one day function completely without the barriers of the language and be able to speak it."
Hernandez is not only happy with the growth he's experienced in class, but also the camaraderie.
"It's hard work, of course, because we all work," Hernandez said. "But we always come together to bring something to eat because we know that people come straight here from work. We rotate one week each to bring something to share."
And he is grateful that the Red Shield offers the course to people in the community who want to learn English.
"[The Salvation Army] continues doing its work not only in [social services] and spiritual support but also with what the community needs," Hernandez said. "People need to look for opportunities to try to better themselves not only economically but for themselves…to feel that we can do anything."
Vincent DeBiase, an LBCC instructor who taught the computer information competency course, was happy to be able to teach the class at the Red Shield.
"I really enjoyed teaching the course. As an outreach program, it's great to be in the community and working with The Salvation Army," DeBiase said. "You just get to work and interact with people who might not normally come to the college on their own and maybe enroll in a class. It's just maybe more of a comfortable or a familiar setting for them to learn in."
The computer class goes over everything from Microsoft 365 to cybersecurity and computer purchasing basics.
"It helps build [the students'] skills, [and] it helps create a level of comfort for them with computers. A lot of them have never used computers before," DeBiase said. "Some of them talk about maybe returning to the workforce and these are skills that they would like to have. Some of them are interested in just keeping things organized at home like recipes and things like that or maybe even typing a memoir. These are just skills that they're not maybe comfortable or familiar with that just can add or enhance their day-to-day."
Infusino hopes that these courses at the Long Beach Red Shield will encourage participants to want to continue their education at LBCC.
"Hopefully if they want to continue, they now have a sense of confidence and comfort level with the experience and they would be willing to explore more at LBCC in the future," Infusino said.
And Lankford longs for the classes offered through this partnership to serve as a bridge to introduce more people to the resources that both LBCC and the Long Beach Red Shield have to offer.
"I hope that students realize there are additional resources and opportunities available for them and that The Salvation Army is a safe place for their families to get help and to grow and develop," Lankford said. "We're opening a whole other world to them. Some opportunities we can bring right here to a location they are already comfortable. But then, as students progress and learn, they can access additional resources that LBCC and other community partners offer them as well."
---
Do Good:
You've probably seen the red kettles and thrift stores, and while we're rightfully well known for both…The Salvation Army is so much more than red kettles and thrift stores. So who are we? What do we do? Where? Right this way for Salvation Army 101.
Interrupt the free flow of junk (e)mail with something good. Get the Do Good Digest to join 21k+ people who care and get weekly inspiration sent right to your inbox.