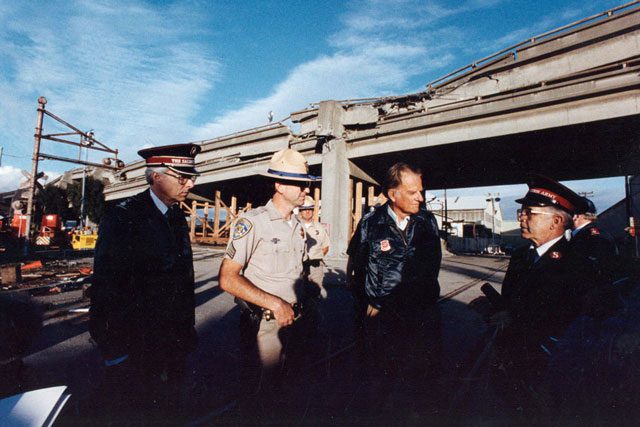 Compassion in action
Looking back on Loma Prieta
By Robert Birks, Major – 
On a Tuesday afternoon in October 1989, my wife, Stacy, and I were in Pittsburg, Calif., in a 15 passenger van. We were picking up young people for programs at The Salvation Army Corps Community Center in Concord, Calif.
A little after 5 p.m., the street we were traveling on started rolling—something I had never experienced. We knew instinctively that we were experiencing was an earthquake, and not an insignificant one.
Immediately we delivered the kids safely to their families and headed for the corps to offer our help in what promised to be a major Emergency Disaster Services (EDS) effort from The Salvation Army. Sure enough, within a few hours my boss and I were in a canteen, heading to the Oakland Ferry terminal to offer sandwiches to thousands of hungry commuters who could not take Bay Area Rapid Transit (BART) or the Bay Bridge to get home.
From there we were deployed to the Cypress Street Viaduct collapse, where the upper tier had collapsed onto the lower tier, causing 42 deaths. We set up a Salvation Army canteen at the site, and worked 12 hour shifts for several days, providing hot food, coffee, conversation and spiritual counseling to first responders.
It was tiring and rewarding work, and it was an honor to serve the men and women who were literally risking their lives looking for others—only a few were found alive.
Another honor came when The Salvation Army invited Dr. Billy Graham, a renowned Southern Baptist minister, to the Bay Area to tour the relief work and to bring comfort to those who were working so hard.
Wherever we went, the iconic evangelist would walk up to people—first responders, volunteers, people who had experienced loss—wrap his eagle-like arms around them, and offer a prayer.
One moment especially comes to mind. Graham walked up to a Tunnel Rat. These were the heroes who searched for people by crawling into the tight crevasses caused by the collapse. Ignoring the filthiness of the Tunnel Rat's uniform, Graham opened his arms and held the hero.
I have since served with The Salvation Army in other EDS situations, but my experiences during the Loma Prieta earthquake response hold a special place for me. As a 21 year old without much experience in much of anything, I saw compassion in action, from the first responders as well as those who came alongside them.
Twenty-five years later, The Salvation Army is still responding to disasters of all kinds in the Bay Area. We have been for 131 years, and we aren't planning on leaving anytime soon.
Wherever lives are shaken up, wherever people are hungry, wherever someone needs a word of comfort or a word of prayer, wherever tragedy strikes, The Salvation Army is there. Our volunteers, employees and officers aren't Tunnel Rats, but they are heroes, and they aren't afraid of getting their hands dirty in search of people in need.