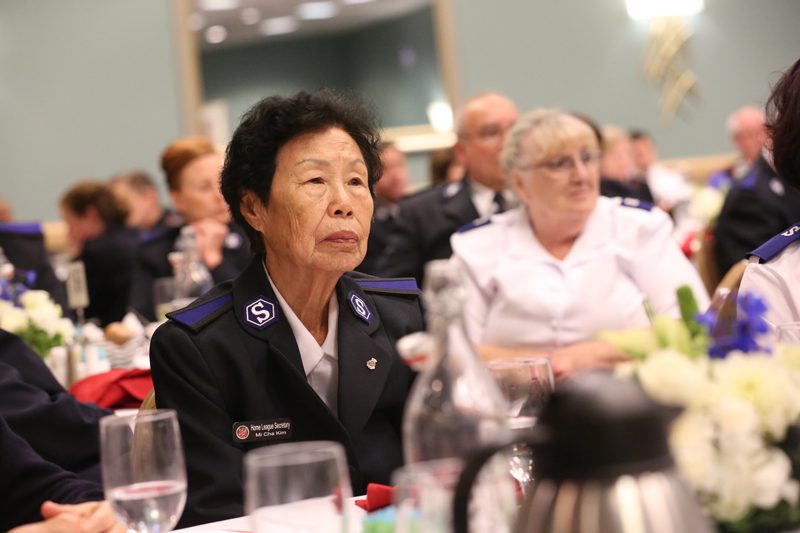 Local officers honored at dinner event
The General and Territorial Commander offer encouragement to those serving at the corps level.
By Jared McKiernan – 

Local officers from across the Western Territory took center stage during Commissioning weekend's Local Officer Mobilization Dinner at the Long Beach (California) Convention Center.
The Territorial Staff Band opened the evening and Lt. Colonel Lee Lescano, Territorial Program for Secretary, welcomed all in attendance. After dinner, General André Cox thanked local officers in the territory for their hard work and dedication to the mission.
"Without a doubt, The Salvation Army stands or falls on the works that take place in our corps," Cox said. "I think back to the years when I was in a corps. And I'm thankful for the patience and the wisdom and the suffering of the local officers…As we travel around the world, we are amazed to see the engagement, the commitment of you who serve in our local corps setting."
He then implored them to turn their attention to youth in their corps—if it's not already there.
"You need to be thinking about mentoring and preparing those that come after," he said. "The responsibility is not about occupying the space and exercising our leadership. It's about how we develop the next leaders. We need to equip and prepare the next generation."
Cotton Presley, a Bible teacher and speaker from the Southern Territory, delivered a testimony on why local officership matters. Presley, who taught at the Anchor Deep Bible Studies earlier in the day, is also a Vietnam, War veteran and board-certified chaplain. He cited Peter 5:1: To the elders among you, I appeal as a fellow elder and a witness of Christ's sufferings who also will; share in the glory to be revealed.
"Be the examples to the flock," Presley said. "We are called to be overseers. We are called to be examples"
"It's going to be worth it," Presley said. "I congratulate you in your steadfastness. Let's continue to be steadfast."
Matt Woods followed with a vocal solo and Charlene Boileau, a corps sergeant major at the Mesa (Arizona) corps, delivered the evening's second testimony. She opened up on the importance of encouraging those in your corps to spend time in the Word—for it could well change their lives.

Territorial Commander Commissioner Kenneth G. Hodder then took to the stage and recognized all those who carry out the mission locally, and even invited those seated up front to get up and go around the room and thank the local officers in attendance for their service.
"Local officers are thrown out onto the front line very quickly," Hodder said. "I thank you for saying yes…and I trust you will continue to enjoy the joys of that service for years to come.
"Thank you, and we couldn't do it without you."