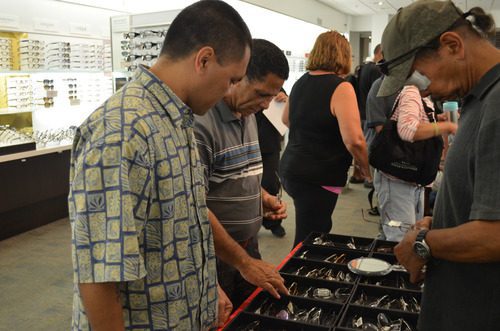 LensCrafters provides free eye exams, glasses to Hawaii ARC
It had been ten years since 52-year-old John Lee, Jr. received an eye exam. It was never much of a priority.
This week, LensCrafters provided free eye exams and glasses for Lee and many other beneficiaries at The Salvation Army Adult Rehabilitation Center (ARC) in Honolulu, Hawaii.
OneSight, LensCrafters' charitable arm, has provided vision care through to those who cannot afford it for over 25 years. The group also served the Army's Adult Treatment Services and Family Treatment Services for a total of 61 people, according to Holly Finley, LensCrafters Pearlridge general manager.
"We're pretty lucky, yeah," Lee said to one of his friends at the ARC. "We get to pick what we want and it's free."
Lee is four months into phase 1 of the rehabilitation program. He struggles with an addiction to crystal meth and said his family left him. His wife and 10-year-old daughter now live in Oregon, where he keeps in touch with them through Facebook.
"I have a plan," Lee said as he scanned the bins full of frame samples. "Once I graduate from the second phase of the program, I will go back to school, find a job and see my daughter after she graduates from high school."
For Lee and his friends, Gerald, Richard and Jaime, receiving an eye exam and getting new glasses is all part of the rehabilitation process. They're learning how to live healthily, take care of themselves and move onto better things.
"Having an eye exam every year is so important because it can detect so many different things about your health, there are things that could be going on internally that you would never know unless you got an eye exam," Finley said. "We feel it's important to make sure that vision care is taken care of for everyone."