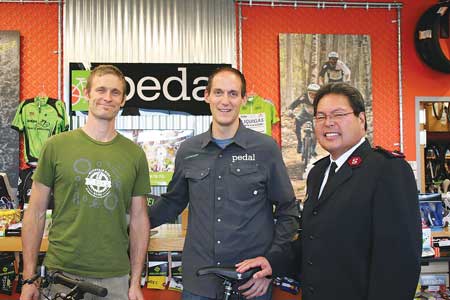 Leaving behind the waters
The Salvation Army looks to recovery following the Colorado floods.
 By Courtney Culpepper
As The Salvation Army's response to recent Colorado flooding moves from immediate relief to long-term recovery, community members are contributing to the work and finding ways to express thanks.
The Army helped more than 250,000 people in the floods with physical and spiritual needs, and will now focus on recovery efforts that include home restorations and relocations.
The recovery team is looking to rent a storefront in Boulder County to maintain a physical presence in the area, and hopes to provide services such as rental deposits, insurance deductibles, furniture, clothing, utilities, food, medical reimbursements, as well as unmet needs by case management.
Intermountain Divisional Commander Lt. Colonel Dan Starrett said, "Our goal in recovery is to do what we can to help survivors get back to where they were the day before the floods hit." The division estimates disaster recovery will take up to three years.
In Monument, Pedal owner Andy Christman organized the Pedal 50 gravel ride, raising $820 for the Army's flood relief efforts with more than 50 riders.
Inspired by the gravel ride, American Cyclesport owner Marko Salmon collected more than $3,000 in cycling gear to be raffled off at the next ridinggravel.com event.
In Lyons, residents of the flood-ravaged town voiced their emotions through a "found objects" art exhibit erected from items scattered by the flood waters. The exhibit, created by Lyons artist Donnie Mortimar, sits in the middle of town and invites residents to share experiences.
Many of the objects featured are personal mementos pulled from the rubble. Much of the exhibit pays tribute to The Salvation Army volunteers and staff who stayed in Lyons providing immediate relief until early November.
"The work is incredibly profound," said Salvation Army Emergency Disaster Services Director Sherry Manson.  "It's a new way to be thanked for the work that our disaster services teams did here. And I am overwhelmingly touched."