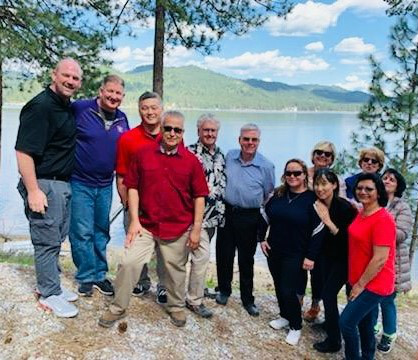 'Leaders in Community' helps develop officers
By Sarah Bentley and Dr. Alan Forsman
All the believers were together (Acts 2:44a).
We know the text of Acts 2:42-47 well. What did they do together? They prayed, they learned, they connected, they worshipped, they shared and they served.
The concept and practice of community is explicit and implicit throughout Scripture. Eugene Peterson in his classic, "A Long Obedience in the Same Direction," entitles his reflections on Psalm 133: "Community." He discusses the beauty of harmony among God's people that leads to good relationships, fruitfulness and witness.
We know "community" is defined as "a unified body of individuals with common interests," which clearly articulates Leaders in Community (LinC), a ministry in the Western Territory intended to facilitate ongoing learning and growth for officers with over five years of service.
Leaders in Community was birthed in the Del Oro Division in 2010 to create a learning environment, peer relationships and accountability, which will promote spiritual formation, greater theological understanding and practical ministry skills. The desired outcome is to enhance leadership capability and performance.
The focus on people development was created as a result of the strategic plan under the leadership of now Chief Secretary Colonel Douglas Riley and Territorial Secretary for Women's Ministries Colonel Colleen Riley, with the direction of Sarah Bentley and consultation from Dr. Alan Forsman.
After its establishment in Del Oro, feedback given by officers was positive, though they wished there had been something such as this for them during their first year out of training school. As a result, Alpha Community was created and has been delivered since 2011.    
Progress toward community
The most recent Leaders in Community was held in the Northwest Division, one of several that have been endorsed and supported by divisional leaders Lt. Colonels Bill and Lisa Dickinson. For the gathering, the Dickinsons had a unique opportunity: there were four sets of experienced officers newly appointed to the division who did not know each other. 
Having the shared experience of Leaders in Community assisted the officers in becoming familiar with the Northwest Division and provided them with common ground. One officer said, "we came into this group not knowing each other. Now we are friends and colleagues for life."
The process involved monthly 24-hour retreats, the first one being longer in order to provide a proper orientation and establish good rapport, from September through November and January through May.
The focus was on spiritual development, including Bible studies and periods of prayer. "We found this time to be so refreshing, and uplifting," said participant Captain Mark Stearns.
Attendees also found teaching and scheduled rest, intellectual stimulation from reading and discussion, and community building by living and eating together. In addition, emotional awareness was addressed through assessing, learning and processing interactions. 
Participant Captain Dora Stearns said, "when we first learned of the opportunity with Leaders in Community, we were somewhat skeptical given the busyness of our schedule. After the first session, we began to count the days in anticipation of our next gathering." 
The tools and resources integrated into the retreats were intended to be taken back to the corps for implementation and learning there. For instance, a very basic but important tool is that of effective meetings. Patrick Lencioni calls good meeting behavior an indicator of a healthy organization. Attention to meeting purpose, behavioral guidelines and agendas with outcomes were presented and used at each session. 
Scripture tells us to grow in the grace and the knowledge of our Lord and Savior, Jesus Christ. Leaders in Community is an avenue that equips and encourages officers for life-long learning, discipleship, growth and service.