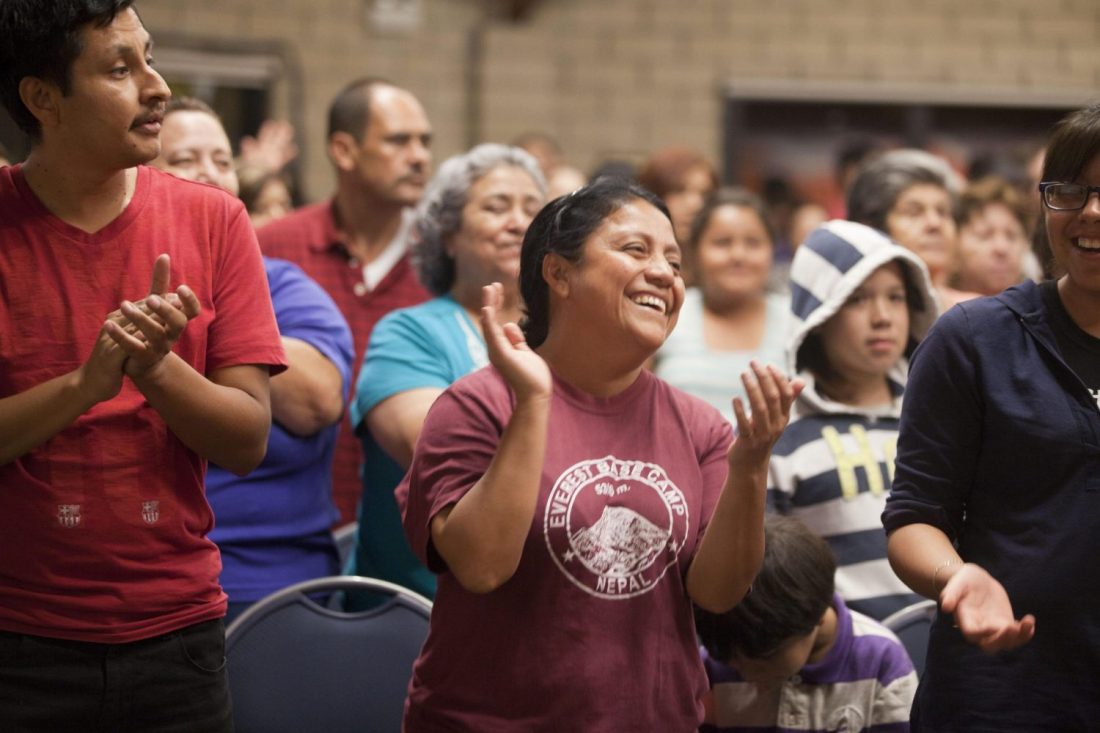 The Southern California Division hosts the 2014 Latino Family Camp
More than 500 Latino Salvationists from Hispanic corps throughout Southern California came together at Camp Mt. Crags in Calabasas, Calif., during the last weekend of August for the 2014 Latino Family Camp.
"From the moment the delegates started to arrive we could feel that God was going to move powerfully throughout the weekend in different ways," said Major Hector Diaz, Southern California divisional secretary for Hispanic Ministries and coordinator for the event.
Adults and children enjoyed times of praise and worship, Bible lessons, sports, fellowship and—the now traditional—Saturday night gathering at the firepit at which some delegates shared their talents with the entire group.
The Family Camp theme came from Matthew 22:37-31, which states that "Jesus replied: 'Love the Lord your God with all your heart and with all your soul and with all your mind.' This is the first and greatest commandment. And the second is like it: 'Love your neighbor as yourself.'" It aimed to motivate leaders, soldiers and friends of the Southern California Division to share God's love with all people as an effective response to the different situations and challenges that families face today.
[gss ids="8700,8702,8703,8705,8701,8699,8698,8697,8696,8694,8693,8692,8691,8690,8689,8688,8687,8686,8685″]
Family Camp provided a time for Southern California Salvationists to reunite for fellowship. They shared quality time through activities such as soccer, basketball, free time and swimming. It also afforded an opportunity to welcome groups or families who attended Latino Family Camp for the first time.
"By starting these relationships, we can make them feel part of our family and welcome them into our Army," Diaz said.
Adults and youth experienced teachings on the Word of God, classes and workshops, which were focused on spiritual growth and the responsibility that one has to share God's love with family members, friends and people in the community.
Guest speakers Lt. Colonels Zoilo and Magali Pardo, territorial multicultural ministries secretary and associate territorial secretary for multicultural ministries, respectively, taught God's Word in a practical way using direct and constant interaction with the audience during the meetings.
Attendees also heard powerful testimonies of what God is doing throughout the corps in Southern California, and how the message of salvation is reaching more families each day.
By the end of the event, 60 souls were restored and 47 individuals gave their lives to Christ.
Delegates were challenged to put into practice everything God gave them throughout the weekend, set evangelistic goals with a purpose, and take advantage of every opportunity the Lord will provide to share his Word.
"We can conclude that the Latino Family Camp has been powerful spiritual refreshment for everyone who attended," Diaz said. "It has strengthened our Christian life and has renewed our commitment of sharing the good news of Salvation at all times. It has been a very special event for everyone."