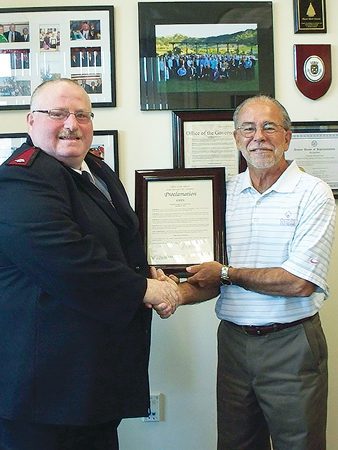 Lake Havasu mayor honors corps officer
Lake Havasu City (Ariz.) Corps Officer Major Larry Feist had a birthday surprise this year—the mayor officially proclaimed Sept. 6, 2013, "Major Larry Feist Day."
"Building relationships in your community is key," said Feist, who serves in Lake Havasu with his wife, Captain Julie Feist. When the couple arrived in Lake Havasu in 2006, they made meeting people a priority. They began building an advisory board and getting involved in the city—building those relationships.
One special relationship is with Mayor Mark Nexsen and his wife, Eileen. To share his appreciation of Feist, Nexsen made the official proclamation, extending "best wishes to Larry Feist on the occasion of his 50th birthday…with sincere congratulations and best wishes for many more happy and productive years."
Nexsen presented the proclamation to Feist at City Hall.