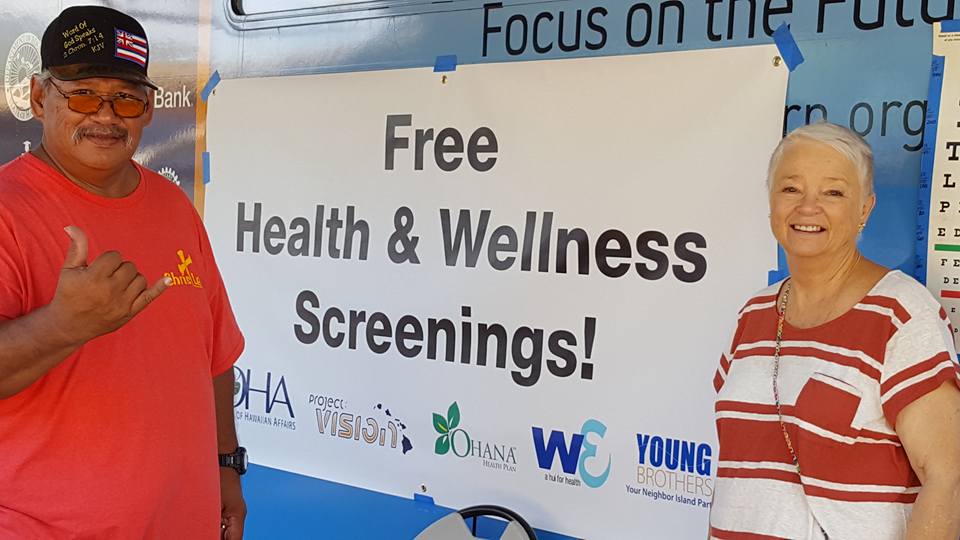 Lahaina Lighthouse Corps promotes good health
The Salvation Army looks to grow annual event with help from partners.
Each year The Salvation Army Lahaina Lighthouse Corps hosts a free health screening event, open to the public, to help ensure less fortunate members of the community receive the care they need. The corps, located in West Maui, Hawaii, and led by Envoy Kevin Nagasaki, provides a holistic ministry, promoting proper care of the body along with the spirit.
Vicente Cacal, a 60-year-old corps volunteer, currently homeless, came to the event this year. Cacal, who helps out in the corps kitchen, told Corps Family Services Case Manager Rita Lei Medina that he is shy and avoids going to the doctor unless it's an emergency.
At the screening, he learned that his blood pressure was a little high, and the team from 'Ohana Health Plan encouraged him to pursue this with a primary care doctor. He also had an eye exam and received a free pair of reading glasses. Medina said he appreciated receiving these services without any "humbug" or the need to show proof of medical insurance.
In a 2013 conversation with Ms. Medina, Anna Chipchase of 'Ohana Health Plan suggested the possibility of funding being available to bring Oahu agencies to Maui for a day. The idea of the first screening came to fruition, launching the now annual event. For senior citizens or those lacking transportation in the West Maui community, the convenient location means they can obtain services they might not receive otherwise.
"One component that has become important beyond the basic health screening is the chance for the agency reps to touch base and converse with each community member on a one-to-one basis," Medina said. "We have seen that there are many people out of touch with their personal medical programs and people unaware of expired services needing to reapply. We have also experienced people in need of immediate medical assistance, fortunately being caught by the agencies on hand."
This year's screening included Walgreens Pharmacy administering flu shots, Aloha Independent Living Hawaii with assistance for the physically challenged, Helping Hands Hawaii providing help with SNAP, the Office of Aging, 'Ohana Health Care checking BMI and blood pressure, and Project Vision Hawaii giving free eye exams and reading glasses.
"Though there are other health screening events island-wide, we recognize that we need to grow this event annually and endeavor to include more local Maui agencies in the future," Medina said. "It just makes sense to add this kokua to the the services provided our community. We have earmarked this event for the month of September; please check with The Salvation Army Lahaina office at 808-661-5335 for the specific date."