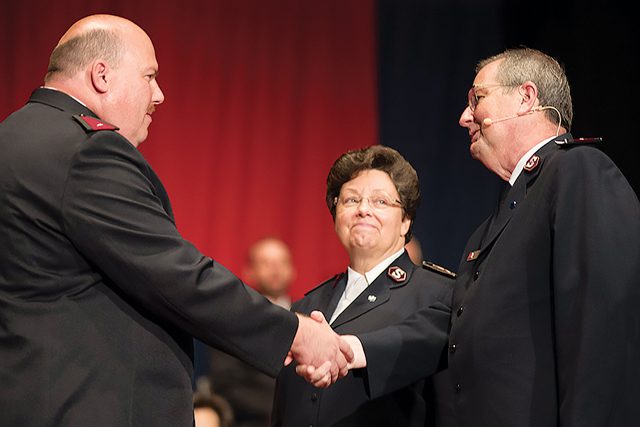 Knaggses reflect on service
Commissioners James and Carolyn Knaggs retire next month after more than six years as territorial leaders. But their leadership has left an indelible mark on the West—and the entire Salvation Army.
By Christin Thieme –
With a unique combination of style, skill and focus, Commissioners James and Carolyn Knaggs have led the Western Territory since July 2010 with a clear priority: people.
More specifically, to love and disciple people in order to—as they would say—win the world for Jesus.
The pair will depart the West on Dec. 31, retiring after more than six years as territorial leaders and 40 years as Salvation Army officers, settling in Barnegat, N.J., on the Jersey Shore.
"The best thing is people's lives being changed; that's the very best thing," James Knaggs said of the past six years. "I think there's been a freshening of mission and a raising of expectations that's helped us get out of the way of what God is trying to accomplish here."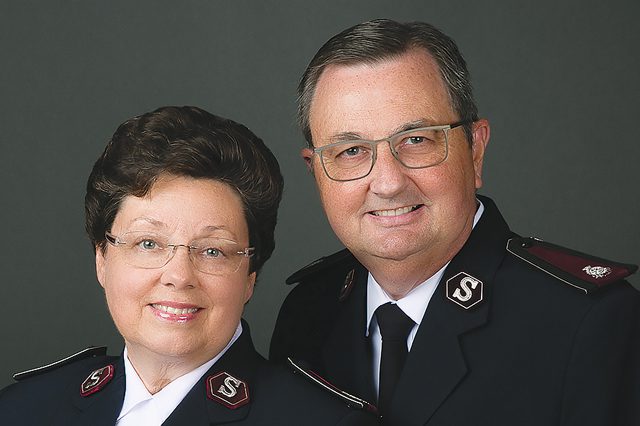 The list of territorial achievements during their tenure includes opening 15 new corps, seeing over 1 million people attend Sunday morning meetings in a year, commissioning 290 officers, and hosting the first-ever "Count Me In" event to connect 5,100 adult rehabilitation center beneficiaries and corps members.
"It's all about connecting, isn't it?" Knaggs said. "The Lord's command was to go into the world, making disciples. It's not about having more soldiers than last year, but about having a person who is deeper and more connected. Discipling is a time-tested, true imperative of our mission."
For Knaggs, this priority took on new life through the Harvest Initiatives—specific efforts to connect rehabilitation beneficiaries, social services clients, campers and corps members to each other and to a deeper relationship with Christ.
"It's not a new idea, but a timely realignment of our hopes," he said. "I love that I'm surprised every day because these ideas all have a nature by which they are empowered to take fresh direction."
A graduate of the Adult Rehabilitation Center in San Bernardino, Calif., Jeremy Alexander is now a first-year cadet at the College for Officer Training at Crestmont. As a beneficiary, he attended a Future Officers Fellowship (FOF) event on campus.
"I didn't expect Commissioner Knaggs to speak to me. He was like a celebrity there, but he went out of his way to talk to me—to me," Alexander said. "It changed my perception of officers and The Salvation Army. I thought we were us and they were them, but him speaking to me demolished that."
At a later event, Knaggs prayed at the altar with Alexander, who remembers the extended prayer time with appreciation.
"That's how I want to be when I become an officer, with that character and passion," he said. "That's where I want my heart to be; I never want to lose that passion."
It was a few of those passionate words that led Lt. Timothy Pemberton into service in The Salvation Army, he said. Unconvinced of a future of officership, Pemberton attended FOF one year with his wife and joked throughout the weekend that God must not have his number because he hadn't received a calling. When Knaggs spoke that Sunday morning, he said: "Do you think people who are not called to officership ever have to say it?"
"That one phrase stabbed me like a knife," Pemberton said. "God used him to speak words of wisdom into my life and I responded to the call to officership in that meeting."
Commissioned in 2015, Pemberton now serves as the Corps Officer in Aurora, Colo., with his wife, Lt. Tanya Pemberton.
"Commissioners Knaggs sent me a handwritten note and a box of different plants when my mother was promoted to Glory during my training," he said. "They took the time to care, and to send a handwritten note. They lead with servants' hearts and show the love of Jesus to everybody."
And they are exactly the same people in the office that they are in public, according to Captain Stephanie Dennis, Executive Assistant to the Territorial Commander since February 2011.
"He's genuine, compassionate and forgiving. He makes you want to do the very best that you can, and empowers you to do so while using your own strengths," Dennis said. "Together, they're as one. They're on the same page in ministry and are going in the same direction."
Carolyn Knaggs remembers when they arrived at one of those directions while attending an international leadership meeting. "We had a moment where we looked at each other and said that equipping women for leadership was up to us," she said. "I wanted to invest in women leaders and their opportunity for education, responsibility and decision making, so we opened the door a little wider."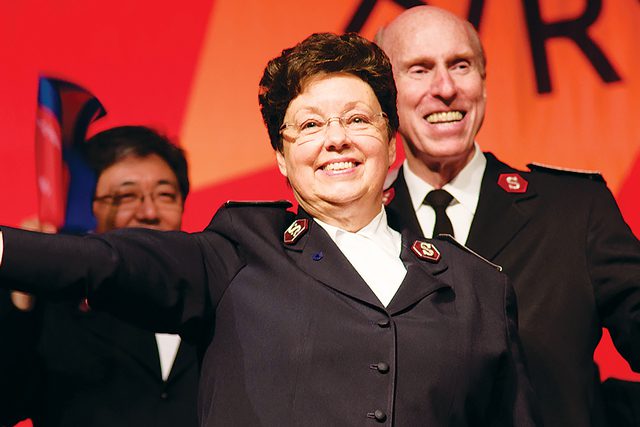 Over half of the women on the Territorial Executive Council have since attended an executive leadership course, and Knaggs said she's seen them put concepts to work in their appointments and further empower women in their divisions and commands.
"They're the ones running the women's programs and engaging in ministry across the territory, and I'm so proud of them for walking through that door and taking this to heart," she said. "I had a lot of doubts when I entered training because I had such little confidence that I could do this. I had an image of what it meant to be a corps officer and I wondered if I could do it. But when I signed my covenant, I wasn't afraid. I wasn't bold, but I was confident and I believed that God was going to be with us."
It was summer of 1976 when James and Carolyn Knaggs walked across a stage in the USA Eastern Territory and signed a covenant with God in becoming Salvation Army officers.
"It was the most pivotal moment in my life, when God received my offering," said James Knaggs, who later earned a Master of Professional Studies in Urban Ministries degree from Alliance Theological Seminary. "I knew what I was doing, and I remember thinking that I hoped I would never give up on it. That was the moment in my life that I said there's no turning back, no excuses. I'm going to give it everything I've got. I've never taken it back."
Following their commissioning, the Knaggses served for 30 years in the USA Eastern Territory in various corps, divisional and territorial positions with responsibility for youth, evangelism and growth, recruitment, musical ministries and field operations. Before being appointed to the West, they served for four years as territorial leaders in the Australia Southern Territory. They have six children—including two nephews and a niece who have become like their own—and seven grandchildren.
One son tragically died at age 3, a catalyst, Carolyn Knaggs said, to making home a priority. "I would bring home Sunbeam badges or Corps Cadet lessons to grade, but when our son died, I decided that home was going to be home and that I would try to reduce stress for the children and for myself as much as possible," she said. "That made me not waste time at the office and be more directive in accomplishing what needed to happen. Then, I let it go."
Years later, their idea of home took on new meaning when they moved out West.
"Each time we would fly back to New York from Australia, when we would land on the West Coast, I would say to Jim, 'Honey, we're home,'" Knaggs said. "I felt that sense of home when we walked into our first meeting here in the West, a welcome reception with the staff at Territorial Headquarters."
Knaggs said they immediately settled into Southern California like they lived here, and didn't just work here.
"When you're at home, you have the freedom to be yourself, to try things, and if you fail, you say, 'Oh, well. We're family," she said. "I learned of the deep connection that people have with each other here, even though we're spread out all over the place. There is a buoyancy about serving the Lord here that's really refreshing."
In six years, the Knaggses traveled to all 13 states in the territory, plus the Pacific Islands, seeing everything from the vastness of Yellowstone National Park to a moose walking down Main Street in Alaska.
"As you go through the journey, there are many times you wonder if you're doing it right or how you measure up," James Knaggs said. "After 40 years, that has been settled. I know that Carolyn and I have worked hard and tried to honor God with every expression. We have been faithful as best we know how to be faithful. I rest in that awareness, and I have a real satisfaction about that. We didn't shortchange anyone or anything along the way. We've tried to do what God asked us to do."
Their true impact may be difficult to quantify, but Knaggs gave us one mechanism for watching our growth: People Count. Since its introduction in November 2011, 185,950 people have made decisions for Christ and 43,574 members were enrolled.
As Knaggs says when he steps onto any stage, "Bless the Lord, oh my soul, and all that is within me. Bless his Holy name."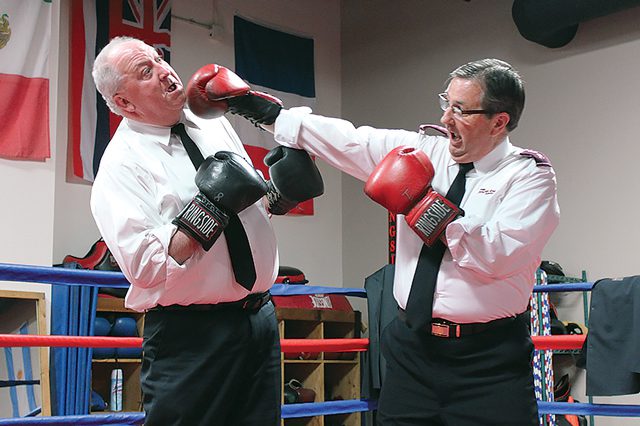 ---
For Commissioner James Knaggs, "culture trumps most everything, and language is the way you open the door."
At a territorial officers councils in 2012, Knaggs issued a challenge: to learn another language.
On the front table sat 100 yellow boxes of Rosetta Stone, software to develop language, literacy and brain fitness. The first 100 people to take a box, Knaggs said, could have it.
Having just been appointed to the Golden State Division, where one third of the corps have a Spanish-language ministry, Major Randy Kinnamon, Divisional Secretary for Business, grabbed a Rosetta Stone for Spanish.
"I started it in the hotel room that night, and continued on for a couple of years," Kinnamon said. "Commissioner Knaggs has an idea and he follows through with it, seeing if other people will pick up on it. I don't think there were any yellow boxes left."
In the four years since, nearly 300 officers have participated in the language learning opportunity, logging 2,100 hours of study—including 1,300 in Spanish and 800 in 16 other languages, from Hebrew, to Russian or Swahili. Some officers have even used it to improve their English as a second language skills.
"Officers on missionary service have used the program to help prepare themselves and have even accessed it after they were in the country where they serve," said Major Jeff Martin, Education Secretary. "Some have reported that after studying in the Rosetta Stone program, they developed enough confidence to try to speak to people who come in for social services, and even if they communicate poorly, the effort is much appreciated and it helps to build bridges into ministry opportunities."
Kinnamon has translated 12 sermons into Spanish, delivering them to congregations that he said, "appreciate the effort, even if it wasn't flawless." He's also done a few of his ventriloquist routines in Spanish.
"I'm certainly better now than I was four years ago," Kinnamon said. "If it impacts your ministry, it's a good thing to learn a language."