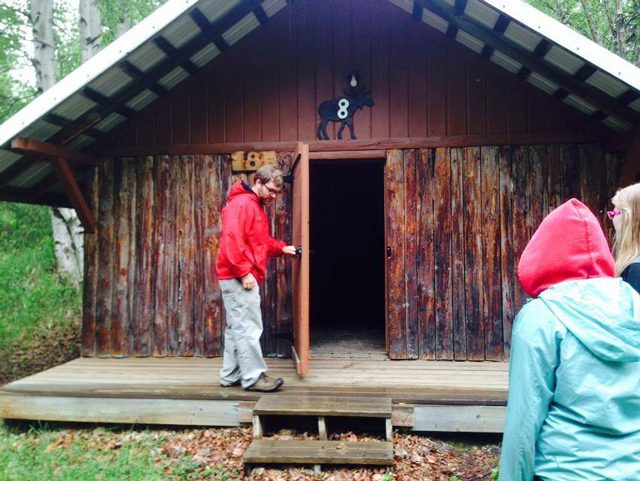 King's Lake Camp welcomes the community
Alaska's divisional camp hosts a Homecoming Celebration to kick off the summer season.
By Stephanie Pavlakis –
Photos on server (might be in 3207). Got photos from Facebook: The Salvation Army Alaska Division
The Salvation Army's King's Lake Camp in Wasilla, Alaska, held a Homecoming Celebration May 31 to kick off the summer camp season and share the camp experience with the community. Located 43 miles northeast of Anchorage, the camp sits on over 200 acres of land encompassing King's Lake.
Despite the cold, windy, rainy day, more than 50 people attended the event. They congregated in the warm dining hall where they enjoyed classic camp fare of hot dogs, beans, chips, cookies and coffee. Once an hour, divisional staff and camp staff members offered guided tours of the facility and grounds. When the weather improved, visitors prepared s'mores at a bonfire.
"What could be better than making s'mores?… Sharing memories and making s'mores at Kings Lake Camp," said Major Jeanne Baker, Alaska divisional director of women's ministries. "King's Lake Camp is a beautiful place, made better because it is a place where the mission of The Salvation Army can be seen and experienced by those who come for an hour…or a week."
Many visitors were long-time Alaska residents who had attended King's Lake Camp as children. Among those contributing stories to the "Favorite Camp Memories" journal were Norma Hannan, who first attended camp as a 2nd grader in 1945 and returned every summer until her high school graduation in 1955, and Burt Hall, who met his wife at camp in 1957. These returning campers, along with those new to the camp, appreciated the tours, which highlighted changes and recent improvements, including a new playground funded by The Salvation Army Anchorage Women's Auxiliary and assembled with help from the University of Alaska Anchorage Construction Management Club.