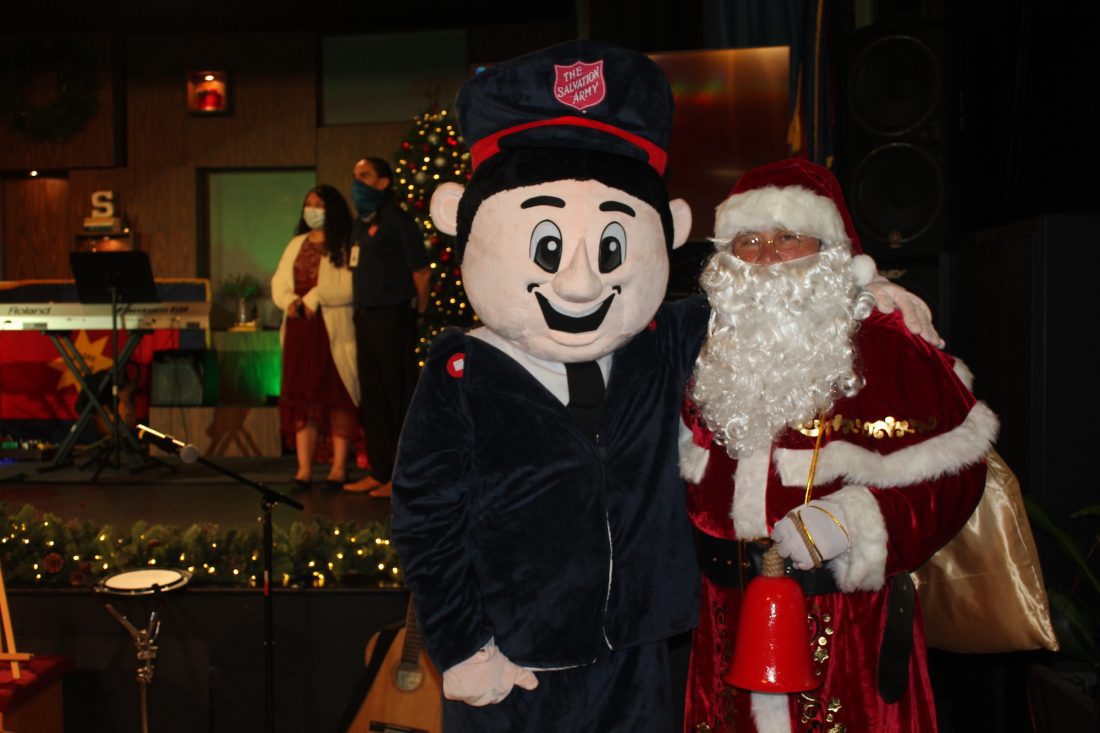 Kettle Kickoff celebrates youth programming and raises over $4,000 in a single night
Salvation Army's Red Shield community center in Los Angeles hosted its annual Kettle Kickoff for a night filled with talent, gratitude and generous donations.
Salvation Army's Los Angeles Red Shield Community Center held its annual Red Kettle Kickoff on November 20 to celebrate the beginning of its 2021 Red Kettle Campaign.
"The Red Kettle Campaign gives people the opportunity to join The Salvation Army and secure that the Hope Marches On," Los Angeles Central Corps Officer Lt. Angel Amezquita said.
In 1891, The Red Kettle Campaign began as one officer's way to raise money for those in need during Christmastime. Since then, the red kettle has remained a Salvation Army staple that can be seen across the country for roughly a month following Kettle Kickoffs.
All funds raised during the campaign make it possible for The Salvation Army to continue providing assistance and programming year-round.
In his opening speech for the night, Amezquita announced that LA Central Corps aims to fundraise $32,000 this season. "I feel like the need is greater today than it was last year," Amezquita said.
The LA Red Shield Community Center offers a variety of youth programming for Pico Union families–including everything from sports and aquatics to art, music, and dance. "We just do everything at Red Shield," Amezquita said.
"You're going to be surprised by all the talent we have here," Amezquita added as he introduced the first act for the night—Yosef de Leon, who performed a hip-hop style dance to "The Nutcracker Goes Boom-bap."
Following Leon's performance, a video was shared to highlight LA Red Shield's martial arts program that's been teaching kids traditional karate for over 21 years.
Next, Amber Tapia took the stage to perform two acapella songs, the first in Spanish and the second in English. At 12 years old, Tapia's falsettos filled the room, resonating with the audience even without instrumental accompaniment.
"I think we're going to see her on America's Got Talent pretty soon," Amezquita said following her performance.
Five young dancers from LA Red Shield's Dance 2 Serve program took their places on stage next, dressed in matching black leotards and facemasks.
Amezquita said the program "empowers youth through the artistry of dance and creates opportunities to serve the greater community," with a motto stating: "We are dancers in action to create positive change."
Talent acts took a pause as dinner was served for attendees, provided through a partnership with New York Chicken & Gyro. Amezquita mentioned how this was the first year that the kickoff included a sit-down dinner portion.
During this time, Amezquita gave gratitude to the staff at LA Red Shield and introduced Jasmine Marcus to share her testimony.
"This place is what keeps me on track and wanting to succeed," Marcus shared detailing how many of her first experiences as a child took place at the Red Shield. "I'm more than thankful knowing I'm accepted and cared for in this beloved place."
While attendees finished their meals, a fundraising auction began. A highlight from the auction featured Salvation Army red shields that were hand-decorated with proceeds going to support LA Red Shield's youth arts program.
Several gift baskets also went up for auction, including an LA Lakers gift basket, a board game gift basket, a coffee-lovers gift basket (provided through LA Red Shield's in-house coffee shop, Holy Grounds), as well as a gift basket from an event sponsor, Anita's Cleaning.
As the night continued, Lt. Angel and Cassandra Amezquita took part in a skit titled, "Bellringing in 2021." In the skit, Cassandra Amezquita showed how "Tip-Tap" technology can be used as a new method to donate at red kettles this year. Here, she's shown donating through her smart-watch with just a tap of her wrist to the sign.
Following the skit, the poetry club took the stage with two sister performers, Amy and Edith Pedro, sharing poems they had written during their time in the program.
Next, Jimmy Hernandez shared his testimony of the impact the Red Shield center had on his life.
"At an early age, The Salvation Army was an afterschool program for me and it helped my family," Hernandez said."It helped me stay away from gang violence and from drugs."
When Hernandez was younger, he said his mother worked two jobs and The Salvation Army programs "helped take care of [him] when she couldn't."
"This program helped me with my schoolwork, leadership, through sports and arts…And today I see my kids going through the same program that I went through," Hernadez said.
"A donation to The Salvation Army is an investment in our youth," he concluded.
The last performance of the night featured the children's mariachi program, Rayos del Sol, playing a variety of songs in Spanish and English.
Another notable performance included young soccer star, Marlon Pico Jr., who showed the crowd a few tricks.
As the event neared its end, LA Red Shield Director, Francisco Medina took the stage to encourage those in the audience to donate in whatever capacity possible.
"The big thing today is to give. Any way to support the programs," Medina said. "You have your kettles, you have your tip-tap–this is the time to give."
Overall, the event raised over $4,221 with all proceeds going to support the programming at LA Red Shield.
---
Do Good:
You've probably seen the red kettles and thrift stores, and while we're rightfully well known for both…The Salvation Army is so much more than red kettles and thrift stores. So who are we? What do we do? Where? Right this way for Salvation Army 101.
You can make an impact in the Fight for Good with whatever time and skills you have. Whatever your interest, there is a you-sized need for goodness in the world. Get the guide on How To Be An Impactful Volunteer and get in the Fight for Good today.
Want to hear more about the work being done at L.A. Red Shield? Read more stories here.