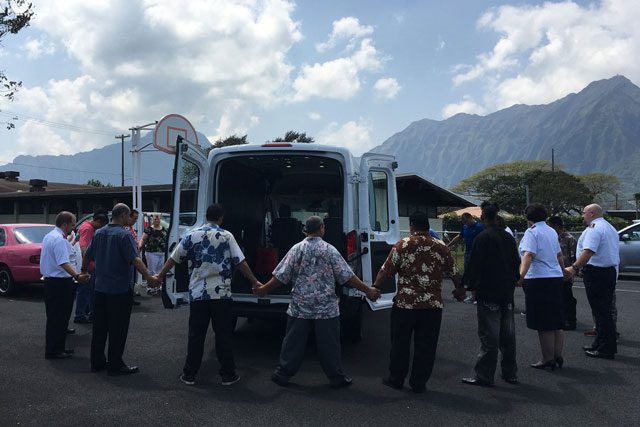 Kaneohe Corps dedicates new vehicle
The Ford transit van will allow for greater outreach.
The Kaneohe (Hawaii) Corps congregation gathered in the corps parking lot after a Sunday worship service, joined hands and offered prayers of thanksgiving over a new mobile assistance vehicle (MAV). Led by Corps Officers Majors William and Elizabeth Welch, the corps plans to use the Ford transit van to expand its outreach.
"We encircled the vehicle with the unity we find in Christ and lifted up individual, silent prayers," Elizabeth Welch said. "Captain Micheal Stack [Hawaiian and Pacific Islands Divisional Youth Secretary] led us in a dedicatory prayer."
The corps found that, according to the 2010 U.S. Census, the population of 10 nearby remote locations totals more than 102,000 people. This number does not include individuals and families living in 10 of the public beach parks on Oahu.
"We want to bring relief to our Windward neighbors with the MAV," William Welch said. "Our hope is that the MAV will become a temporary social service office that will become the link between clients and the collaborative organizations that The Salvation Army works with."
Welch said the vehicle will be equipped with shelving to carry food for distribution to the hungry and will provide a hot spot for telecommunications to connect people to other social services and to databases to update client information.


One goal is up-to-date case management—maintaining client files with current information—to better assist them with appointments for services.
"That way we will know who we were going to see and how/what we will be helping with the day we go out to that community," William Welch said.
The corps is looking to increase food drives so it can provide food boxes throughout the year; it already distributes them during the holiday season. Two food drives are currently in progress.
"We are looking for inroads to the communities to get help and partner with community leaders," William Welch said.
The MAV could also offer some fun options for families.
"We hope to expand services to families by planning family activities that can be done in parks, weekly play time groups for families with small children and on-site distribution of backpack and school supplies this summer," Elizabeth Welch said.
In addition, the MAV will assist in emergency disaster services as needed. Currently, it can provide emergency water, food and equipment. When funds become available, the corps plans to add air conditioning, a stand-alone generator, external AC power box and portable hot meal carriers.
"We are so grateful to the generosity of the Harold K. L. Castle Foundation that provided the funding for this vehicle," Elizabeth Welch said. "The possibilities are huge and now this dream is a reality."