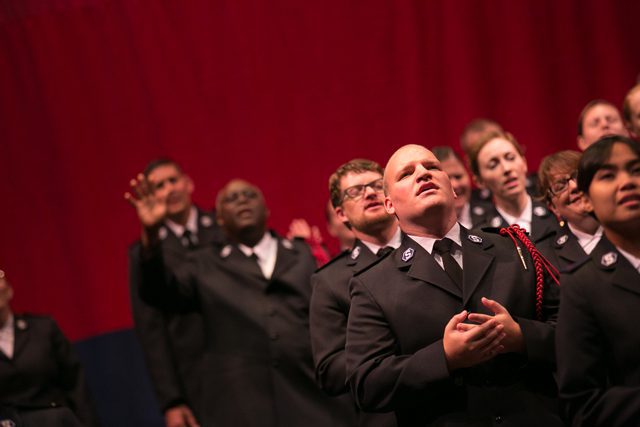 Joyful Intercessors welcomed
By Karen Gleason –
The 55 members of the Joyful Intercessors Session of cadets received their public welcome Sept. 12 at the Cerritos Center for the Performing Arts, Cerritos, Calif., in a meeting defined by prayer and commitment as they begin their 22 months of training at the College for Officer Training at Crestmont (CFOT).
After the cadets took their place on stage, joining their sister session, the Messengers of Light, a time of worship began, setting the tone for the meeting. Individual Joyful Intercessors prayed, expressing gratitude for God's love and their commitment to share that love with the world. Interspersed with the prayers were worship choruses, including "Be Still, For the Presence of the Lord."
After the combined cadet chorus sang "The Lord's Prayer," led by Erin Riesebieter, Western Territorial Commander Commissioner James Knaggs welcomed the audience, thanking them for their intercessory prayers for the new cadets and encouraging them to continue praying.
"I think you'll find God is calling you to be a Joyful Intercessor today," Knaggs said. "[The cadets] stand before you as Joyful Intercessors as an answer to your prayers."
The congregation joined in the song "Joyful, Joyful," and the Territorial Youth Band (TYB), led by Richey Opina, performed an arrangement of "Open the Eyes of My Heart."
Territorial Candidates' Secretaries Major Bob and Captain Joanne Louangamath introduced the new cadets. Joanne Louangamath noted that the session represents all 10 divisions and 30 corps, and includes 39 first generation and two sixth generation Salvationists.
Bob Louangamath officially presented the new session to Knaggs, quoting 1 Thessalonians 5:16-18: "Rejoice always, pray continually, give thanks in all circumstances; for this is God's will for you in Christ Jesus."
After Knaggs received the cadets, Louangamath presented the session flag to Knaggs who entrusted it to Cadet Yonathan Escobar.
Outgoing Chief Secretary Colonel Dave Hudson challenged the new cadets, cautioning them to rely not on their own strengths and talents, but instead to rely on the Lord.
"Any significance you will ever have is through God's grace; God is your sufficiency," Hudson said.
He also counseled them to be present, to avoid getting caught up in what their next appointment might be.
"His calling for you is to be there…be with your people. Learn to practice the ministry of presence," he said. "Make yourself fully available to God. Be faithful."
A time of farewells followed. Knaggs presented retirement certificates to Lt. Colonels Doug and Diane O'Brien, whose last appointments were as territorial secretary for personnel and territorial community care ministries secretary, respectively.
"This is not the conclusion of your officership, or your ministry," Knaggs said. "What a thrill it is to know you and to work with you, especially in these years."
Knaggs then farewelled Colonels Dave and Sharron Hudson, who will take up appointments at National Headquarters, as national chief secretary and national secretary for women's ministries, respectively.
Finally, Knaggs wished Majors Don and Ronda Gilger well as they leave for overseas appointments in the Eastern European Territory, as territorial secretary for business administration and Moldova divisional commander, respectively.
A time of prayer followed, with the Knaggses, the O'Briens, the Hudsons and the Gilgers surrounding the cadets and praying for them, while the TYB played the chorus, "Prayer gently lifts me to highest heaven."
After the cadets sang their session song, "Joyful Intercessors," words and music by Darren Shaw, Cadet Claire O'Brien-Hawk gave her testimony. She spoke of the power of intercession, both through prayer and action, and its impact on her life.
"'Joyful Intercessors' is a bit of a tricky name, but basically, it means that we've been tasked with helping people in need—and doing it joyfully," she said. "I find it helpful to relate the word 'intercession' to the word 'interference.' I mean: when we intercede for someone, we interfere with the thing that is giving them trouble. Intercessors interfere with trouble. We're like a vigilante army, giving trouble a dose of its own medicine."
Lt. Colonel Steve Smith, territorial secretary for personnel, read Mark 2:1-12, the story of the paralyzed man whose friends lowered him on a mat through the ceiling of a house to see Jesus.
In his message, CFOT Training Principal Major Brian Saunders painted a picture in words as he told the story of the paralyzed man and his four friends—the intercessors who made sure he saw Jesus.
"Because he had friends, that day was the last one he'd need that mat," Saunders said.
"This passage teaches us about Jesus' divinity, but also about these four friends, these stretcher-bearers, these intercessors," Saunders said. "Their friend needed help. They wanted the best for their friend and they did something about it; they had active faith."
Saunders sent the cadets into the congregation to pray with families and individuals there as the TYB played "Channels only, blessed Master."
"Just when you think the roof is falling in, expect a blessing," Knaggs said. He called up prospective candidates and those ready to acknowledge the call, and Sharron Hudson prayed for them and for those still considering the call to be an officer.
The meeting ended with the congregational song, "Who is on the Lord's side?" led by Dave Hudson and the choral benediction led by Sharron Hudson.