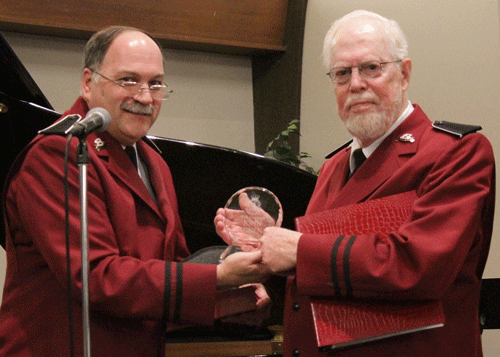 Faithful musician retires after 70 years of service
Former Seattle Temple Corps bandmaster hangs up his horn.
BY: JOYCE M. JOHNSTON
Bandsman John Magnenat, 85, officially retired from the Seattle Temple Corps band—after serving as a musician for 70 years—during its Thanksgiving concert on Nov. 20.
He was bandmaster there for 34 years, and most recently played baritone horn.
Northwest Divisional Commander Major Doug Tollerud read a citation and presented Magnenat with a certificate of appreciation. Tollerud also gave him a binder of letters from soldiers, family and friends from around the world thanking him for his service—his music and his mentoring.
One of the letters was from retired General John Larsson, who reminisced about a time in Santiago, Chili, when Magnenat was an important motivation to a very young John Larsson. Magnenat encouraged Larsson to play the alto horn and as Larsson grew proficient on the instrument, Magnenat invited him to play in the corps band.
After receiving his accolades, Mangenat thanked everyone and left the platform saying, "The glory goes to Jesus!"
Magnenat was born Sept. 17, 1926, to Brigadiers Ruth and Elie Magnenat in Callao, Peru. He married Rafaela Meldendo in January 1956 and they had four children. One of his children, Philip, was promoted to Glory in 1987.
Mangenat served as Santiago Corps' bandmaster for 11 years. The family then immigrated to St. James, Canada, where he served as bandmaster for five years. In 1962, the couple moved their growing family to Seattle and joined the then Seattle Citadel Corps, where he served as bandmaster for the next 34 years. When he retired from that position, he took his place as a horn player in the band.
When asked what advice he would give to aspiring Salvation Army musicians, he replied, "Do it because you like it, not because you have to."
Magnenat continues to serve his corps as director of senior ministries and leads the Home League Bible study every Thursday morning.