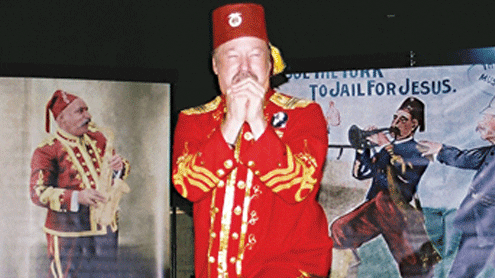 Joe the Turk returns to the West
Colonel Edward Hobgood reprises the role of the famous Salvationist during Commissioning.
Joe the Turk—legendary Salvationist of the late 19th and early 20th centuries—was imprisoned 57 times "for Jesus"—authorities would say for disturbing the peace with his open-air preaching. He became the spiritual father of many Salvationists throughout the years.
At the Aggressive Christianity conference in 2006, Colonel (then Major) Edward Hobgood gave a dramatic presentation of Joe the Turk. Hobgood will visit the West again for Commissioning 2011, joining the cast of his musical Brengle: My Life's Ambition on Saturday night as the older version of Samuel Logan Brengle.
Hobgood has directed Hi-Tops, Let's Go to the Rock, Waiters, Godspell (two tours), the opening session of The Salvation Army's 2000 International Congress and has presented The Turk: Sanctified Salvationist Showman extensively across the U.S. as well as Canada, the U.K. and the South America East Territory. He served as executive producer for Send the Fire!, one of the Army's most successful praise and worship CDs as well as the Be a Hero project.
His role as Brengle will be a small contribution to the musical compared to the gift that he has given the Army world with the music and script he has written for Brengle: My Life's Ambition. Although this will be the first production of Brengle in the Western Territory, it is not the first overall. Several productions of the musical have occurred around the country and even overseas.
Come see the Western Territory's production of this original Army musical during Commissioning on Saturday night at the Cerritos Center for the Performing Arts.