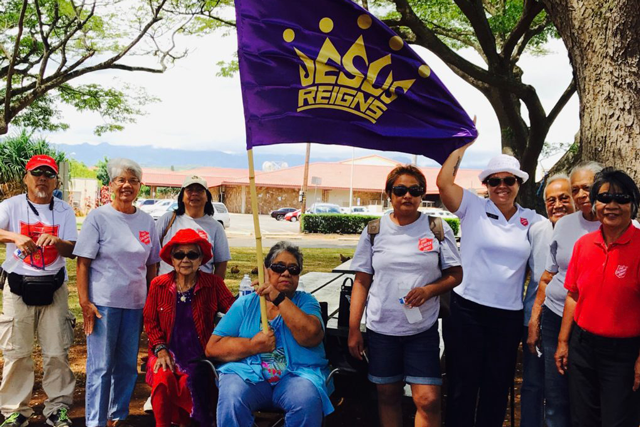 'Jesus Reigns' in Kauai
The Hanapepe Corps Home League represented The Salvation Army Sept. 30 at Kauai's Jesus Reigns Celebration—the first such event in the U.S. The annual celebration began in the Philippines in 2012. Now about 15,000 people participate annually in various locations, according to The Garden Island.  
In Hanapepe, about 70 people marched from Wilcox Elementary School to the lawn of the historic County Building. The marchers, many of whom held flags representing their organization or place of origin, included Hanapepe Corps Officer Lt. Shawn Keoho and the Mayor of Kauai, Bernard Carvalho, Jr.
"We had the opportunity to come together with other churches on the Island of Kauai, to pray for our islands, the United States, our world and leaders," Keoho said. "We lifted up our pastors on the island in prayer."
Keoho is passionate about The Salvation Army's mission.
"This was an amazing opportunity for the Hanapepe Corps to publicly profess their relationship with Jesus Christ," Keoho said. "I have been sharing with my Corps that The Salvation Army is a missional congregation and we need to impact our community in the name of Jesus Christ. One of my Corps members said that they were so moved by this gathering and time of prayer—they truly felt God's presence moving in this moment."
Event Founder Gina Osmena spoke to the group of over 100 people on the lawn of the County Building.
"This is the beginning of a new America," Osmena said, as reported by The Garden Island. "So today we're declaring that all of Kauai belongs to Jesus."