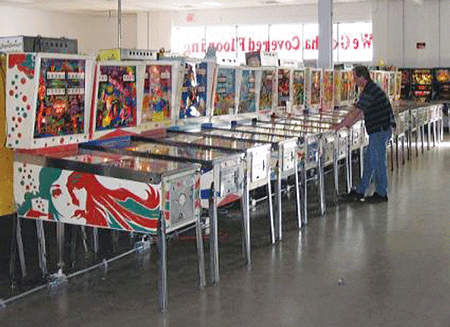 Jackpot—unexpected bonus for Las Vegas Salvation Army
Las Vegas Pinball Collectors Club donates $400,000 to The Salvation Army.
By Leslee Rogers
When he counted the zeros on the check, Major Robert Lloyd, Clark County (Nev.) coordinator, was amazed by the Las Vegas Pinball Collectors Club's donation to The Salvation Army: $400,000!
Tim Arnold, founder of the Pinball Hall of Fame in Las Vegas, presented the check to Lloyd in December during the Pinball Collectors Club annual volunteer appreciation dinner. Following his year-end report, Arnold invited Lloyd to speak about how the Army had used the previous year's $100,000 gift. Arnold then removed a check from his pocket, handing it to Lloyd and stating that it was this year's gift.
"We are so appreciative of the relationship we have developed with the Las Vegas Pinball Collectors Club over the years and the generosity they have shown," Lloyd said. "We will be leveraging this money by investing in upgrades that will bring us the most return, 'greening' our buildings to save on utilities and other improvements that will result in significant savings."
Arnold first met The Salvation Army in southern Nevada through Lt. Colonel Jim Sullivan. Their friendship and Arnold's support of the Army has been growing ever since.
Through the Las Vegas Pinball Collectors Club, Arnold has donated to The Salvation Army since 2006 with proceeds from the non-profit Hall of Fame. Locals and people from all over the world visit annually to play the classic and new pinball games. An astonishing amount of quarters flow through these machines! Everyone who works at the Hall of Fame is a volunteer—a member of the Pinball Collectors Club.
"This year's donation won't be anything like last year's," Arnold had revealed when he sent out the invitations to the annual dinner meeting.
He told those gathered at the event, "I am very frugal. I support The Salvation Army because they are very careful with the money we donate to them."