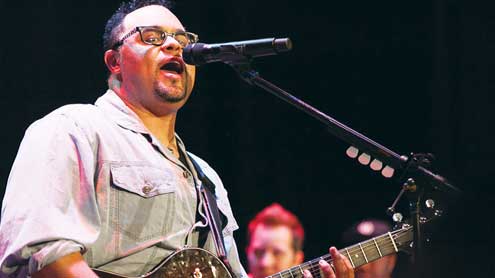 Israel and New Breed open weekend
The gospel group teamed up with Salvation Army musicians for a memorable night.
By Jared McKiernan
Grammy-winning gospel ensemble Israel and New Breed electrified the Pasadena Civic Auditorium Friday night to kick off The Salvation Army Western Territory's 2013 Commissioning weekend.
Led by frontman Israel Houghton, the group performed many of its hit worship songs, including "Your Presence is Heaven" and "No Turning Back," alongside a Salvation Army brass band. The which was part of the "Jesus @ the Center" tour, also served to benefit The Salvation Army.
"We're here to celebrate the amazing Salvation Army and every individual that's a part of it," Houghton said.
The band's signature sound—which fuses elements of gospel, rock, funk and soul—did not disappoint the raucous crowd, which sang and swayed to Houghton's every move.
At one point, he even sent the crowd into roaring laughter, asking, "Who here speaks Spanish?" only to hear an underwhelming response. "I'm here to help you guys out," he fired back. He then taught the crowd the phrase "te amo con todo mi corazon," which translates to "I love you with all my heart." Rapper T-Bone also made a surprise appearance to help perform the song "Te Amo."
The critically acclaimed group drew an eclectic crowd, vastly ranging in age. Among them was Major Moises Guerrero, chaplain at the Long Beach Adult Rehabilitation Center, who enjoyed the concert despite being unfamiliar with the group.
"I'm old-fashioned," he laughed. "But I thought it was great."
Houghton has achieved commercial and critical success, performing at venues all over the world. He accompanied Alicia Keys at the 2007 MTV Video Music Awards and even performed at the 50th annual Grammy Awards. His most recent stop, the Pasadena Civic Auditorium, has played host to countless high-profile artists and events, including Michael Jackson, Louis Armstrong, the Emmys, the People's Choice Awards and  several episodes of American Idol. When he's not on tour with New Breed, Houghton is a worship leader at Joel Osteen's Lakewood Church in Houston.
Israel and New Breed closed the show with a stirring rendition of "Amazing Grace," accompanied by a Salvation Army children's choir and a "Blood and Fire" backdrop.
"Thank you to Israel and New Breed," said Southern California Divisional Commander Lt. Colonel Doug Riley. "You've inspired me to see that God is alive in L.A. and that God is alive in The Salvation Army."