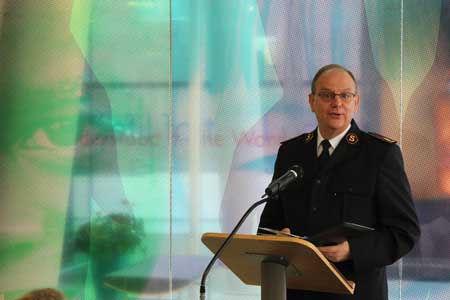 International Headquarters welcomes the General and Commissioner Silvia Cox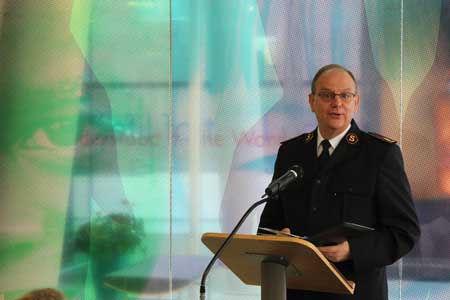 It was the dawning of a new era for The Salvation Army as officers and employees of International Headquarters welcomed General André Cox and World President of Women's Ministries (WPWM) Commissioner Silvia Cox during family prayers on Thursday 8 August 2013.
The meeting, led by Commissioner William Cochrane (International Secretary to the Chief of the Staff) began with a rousing song 'Praise to the Lord, the Almighty, the King of creation' and was followed by a prayer from Major Julie Forrest (personal assistant to the WPWM), who prayed that the General and Commissioner Cox would live lives worthy of the Lord and continue to grow in the knowledge of God.
Commissioner Dorita Wainright (Zonal Secretary for Women's Ministries, Europe), in welcoming Commissioner Silvia Cox said that although this was not a new appointment for her, it was the beginning of a new chapter in her service for God in which there would be more opportunities to share her passion for Women's Ministries by inspiring and encouraging Salvationists.
In her response Commissioner Cox said that she was thankful to God for the opportunity to continue in this appointment, and that for them this is an awesome responsibility but they would do it in God's strength. She concluded by saying: 'I pray God will be the one who directs us.'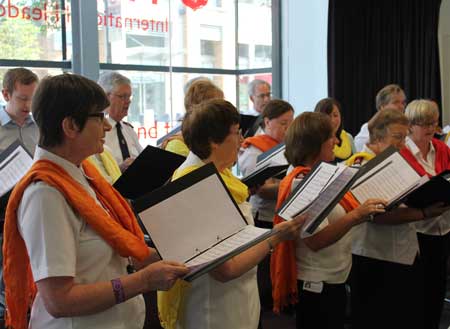 The IHQ Gospel Choir added to the celebratory atmosphere with a bright and exuberant performance of 'Lead me to the Rock'.
Commissioner Joash Malabi, the International Secretary for Africa, welcomed the General, saying that he is a man who leads with openness and transparency, and is a determined leader who will work to see things through. He reminded the congregation that the General comes with vast experience and will thus be able to handle any challenges which the Army faces, both now and in the future. He repeated the General's words that 'The Salvation Army should be at the frontline to serve the world.'
General André Cox said that this was an unreal time for them, and continued: 'As we take up new responsibilities way beyond anything we can do, we do it trusting in the Lord. He is the one who ultimately leads us. Our lives are defined by our desire to follow him – it's not about us!'
In his message taken from Psalm 130, he emphasised the continuous need for God's guidance and power in the life of every Christian, for stillness to experience the presence of God, the importance of creating space in which to encounter God, and in a cynical questioning world, trust that God is their security and they are safe in the hands of the one who calls them.
The meeting concluded with the song 'I'll stand for Christ', after which Commissioner Cochrane pronounced the benediction.
Report by Major Sandra Welch
Editor-in-Chief, International Headquarters