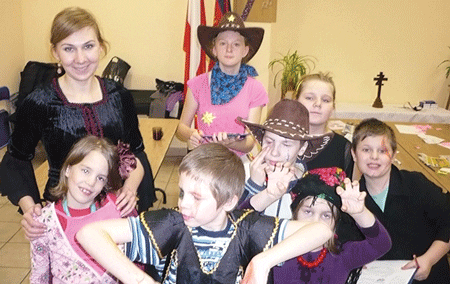 Poland to soon designate Salvation Army as registered charity
The Warsaw Corps experiences a change in favor and funding.
The Salvation Army in Poland, part of the Germany and Lithuania Territory, is growing in both numbers and government favor as the Army is in the process of becoming a registered charity. This will add credibility to its public image and allow taxpayers to designate a percentage of their tax funds to the Army.
"We are experiencing a season of blessing as we focus on Christ's mandate of proclamation and discipleship."said Major Patrick Granat, a USA Western Territory officer serving in Poland with his wife Captain Kitty Granat as Warsaw regional officer and Warsaw corps officer, respectively.
Initially, the Polish government denied the Warsaw Corps' request for funding to cover operating expenses for its children's center. After an official inspection of youth programs in Warsaw, the Kids' Klub appeared on the mayor's list of best-performing programs, and the attitude at the Youth Service department altered, resulting in a grant of 50,000 Zlotys ($14,925 US) to The Salvation Army. This contract will increase in 2013, and is authorized for the next three years.
Since receiving the grant, the children's center expanded its programming—staying open longer, adding a daily meal program, and inaugurating a summer camp program. The grant also helps pay for the center's rent, supplies, utilities and staff salaries.
Along with government funding, donations from the community have risen. The Granats hope this increase will lead to a reduction of reliance on support from International Headquarters and ultimately self-reliance for the region.
A generous Mission Project donation from another Salvation Army territory enabled the Warsaw Corps to purchase a van, now used to pick up food from the Warsaw Food Bank and carry young people to activities. One of the corps' contacts, who owns a horse ranch, offered free rides to the youth allowing the corps to transport kids there.
The Warsaw Bible Society offered The Salvation Army a discounted rate on 20 new Bibles and donated 2,500 gospel tracts to the Army for distribution at June's Euro Cup games. The tract label featured a Scripture reference and displayed the Army shield as a tulip flower, similar to the official logo for the games.