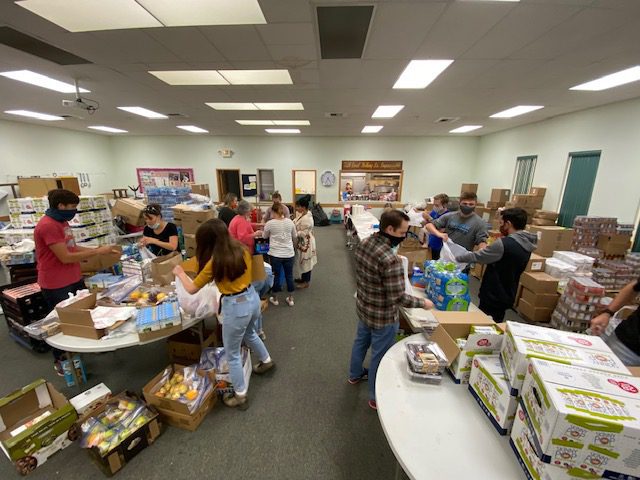 In Oregon, Salvation Army provides quarantine housing and more
How one Pacific Northwest corps turned grant writing into dollars for COVID-19 relief.
In all her eight years at the Salvation Army Roseburg (Oregon) Corps, Katrina Basso had not seen more incoming calls for assistance from her community than in 2020.
"When COVID started, the need hit right away in this area with all the jobs having to shut down quickly, mainly in the school sector," said Basso, a family service and program assistant at the corps. "There's not enough assistance in this town to help everywhere, but everyone is just trying to reach out and make sure everyone is covered with laundry vouchers, with gas vouchers—just so everyone has some normalcy going on."
Providing laundry and gas vouchers are only a small part of the massive undertaking the Roseburg Corps has taken on to expand its services and help individuals who have been affected by COVID-19. 
Since last spring, Corps Officer Captain Kristy Church has been applying nonstop for grants that help organizations provide COVID assistance to their communities.
Through a grant from the Oregon Health Authority, Church and her husband Captain Brent Church were able to partner the Roseburg Corps with the Douglas Public Health Network, a not-for-profit organization, to provide everything from COVID quarantine housing and meals to clothing to individuals who've bore the brunt of the coronavirus pandemic. 
The DPHN oversees COVID-related issues in Douglas County, where Roseburg is located.
As of mid-February, Douglas County has seen 2,027 Covid-positive and presumptive Covid-positive cases, according to the City of Roseburg's website. 
"In the beginning of the pandemic, when it [the government] started saying the U.S. had [COVID], things changed rapidly," said Church. "The need for assistance never stopped, it just increased."
Through the partnership with DPHN, the not-for-profit organization refers individuals who are in need of housing for quarantine to the corps. Church and her team then find a hotel or other housing for the individual in need and DPHN delivers them meals. The corps also provides clothing to individuals who are quarantined via DPHN, which sends contact tracers to the corps to pick up the goods to deliver them.
Church has managed to procure grants totaling more than $50,000 to help community members with COVID-related costs from other nonprofit organizations including Greater Douglas United Way, the Oregon Community Foundation, the Ford Family Foundation, and the City of Roseburg.
"Any grant that comes my way, I try to apply for it," said Church. "That's how I got these grants, I ask for help."
The corps has also been able to expand its wrap-around services which include assistance with  rent and mortgage payments, car insurance, utility bills, groceries, car payments and internet services.
"Anyone who can prove they lost their job, lost work hours, can't pay their bills due to COVID can get help," said Church. "It doesn't matter if they are above the low-income bracket. The criteria for our assistance changed when COVID happened."
Since the start of the COVID outbreak, Church and her staff have been able to assist more than 3,861 individuals in Roseburg, and have spent approximately $180,567 in grant funds for COVID-related assistance.
Individuals who have received assistance come from all walks of life, according to Basso.
"I had a lady who had started temp bus driving for the school system, but when schools closed she was in tears," Basso said. "She had never been helped by any agency before, had never been helped by The Salvation Army in any time, she had three young children and she said 'I just don't know how I'm going to make it.'"
Basso said they were able to help the mother in need with food for her family and a gas voucher. But the corps has not stopped at wrap-around services and housing. Church also partnered with the local homeless outreach that provides mobile showers and provided them with donated clothes and hygiene kits for the homeless. The corps also launched a laundry voucher program with a local laundromat. Recipients get one wash and dry load and they have a week to use it. 
The toll of the pandemic and the growing need in the community can be stressful, but putting in the extra work to meet needs is completely worth it, according to Basso. 
"When the [Oregon} fires started in September, it had already started to drag with calls with everything [COVID] going on. The calls just kept coming. I was exhausted," Basso said. "But when you get the thank yous and smiles from people who are thankful for what you're doing, it's worth it."
---
Do Good:
Listen in as Sabrina Kiser, Director of Social Services for The Salvation Army Western Territory, explores need from all angles—as the pandemic hit, the outlook right now and as The Salvation Army prepares for what's to come

on the Do Gooders Podcast

.

Do you have a hard time telling people what you do, or what you're passionate about and why? Ever stared at a blinking cursor, unsure of what to say or where to start? Or do you avoid writing altogether because you're "not creative enough"?

Take our free email course

and find your story today. 

See how you can get involved in the Fight for Good

with The Salvation Army

.