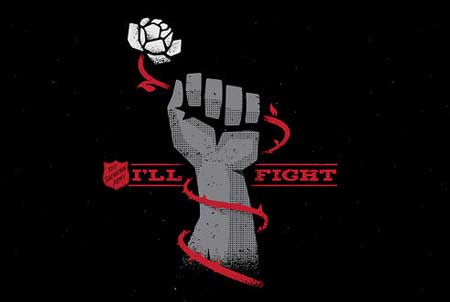 "I'll Fight Day"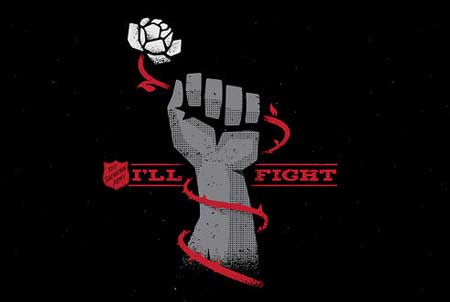 This year, youth across the Western Territory went above and beyond in their efforts for I'll Fight Day 2013. I'll Fight Day is a servant evangelism day where youth are encouraged to get together with their friends and corps members, choose a project, and go out and serve. In countries around the world, The Salvation Army participates in I'll Fight Day and the event continues to grow each year. I'll Fight Day is always held on the first Saturday of December.
This year, I'll Fight Day participants braved all types of weather conditions to do activities that included hosting a free car wash, passing out food and other necessities to the homeless, bell ringing, returning grocery store shopping carts for shoppers, offering free gift wrapping, serving donuts and coffee to bell ringers, paying for people's loads of laundry at different Laundromats, and cleaning projects for those in need.
For a complete list of I'll Fight Day activities, visit saycause.com and click on the "Stories" section. f our youth and officers!
The following corps participated in I'll Fight Day 2013: Santa Ana Temple, Tucson South Corps, Sierra Vista Corps, Mesa Corps, Bellflower Temple, The Dalles Corps, LA Central Corps, Pasadena Tabernacle, Tucson Amphi Corps, Riverside Corps, Pahrump Valley Corps, Phoenix South Mountain Kroc Corps, Phoenix Central Corps African Ministry, Albuquerque Temple, Tualatin Valley Citadel, Eureka Corps, Roseville Corps, Salt Lake City Corps, Southeast Communities Corps, San Pedro Temple, Denver Red Shield, Billings Corps, Moreno Valley Corps, Oakland Chinatown Corps, Roseville Corps, Hayward Corps, Lodi Corps, Redding Corps, Carson City Corps, Stockton Corps, Kolonia Corps, Kodiak Corps, Anchorage Corps and the Territorial Youth Department.