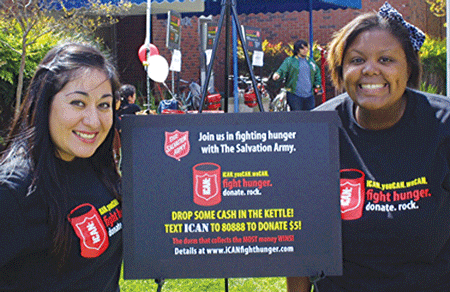 "iCAN"
University students crusade to raise money for food and mission awareness.
By Kelly Mason
Advanced public relations students at California State University, Fresno, implemented a campus-wide campaign to raise as much food, money and mission awareness as possible within the Fresno State population to benefit The Salvation Army. They named their program "iCAN: Fight Hunger" with a slogan of "iCAN. youCAN. weCAN."
For the weeklong campaign, students set up red kettles, food collection barrels and "text to donate" signs around campus and placed display tables in two prominent locations.
"These young adults…brought energy, enthusiasm and a fresh perspective to the project. They volunteered to feed our homeless and pack emergency food boxes in order to get a better understanding of the need in our community. What a great example of young people striving to make a difference in the lives of others!" said Captain Dwaine Breazeale, Fresno Citadel corps officer and Fresno county coordinator
Two local radio stations—KISS Country and Y101—broadcast live twice during the week to help the outreach. Chaparral, a local country rock band, held an on-campus concert benefiting the Army. As food items came in, students used them to build a giant food pyramid in the university library.
The iCAN: Fight Hunger drive partnered with Vintage Days—an annual Fresno State festival—for a weekend booth. Balloons, kettles, a huge prize wheel and T-shirt giveaways attracted people's attention.
Promoting their project via social media, students created an iCAN: Fight Hunger Facebook page, a Twitter account and their own website at iCANfight hunger.com.
The promotion generated more than 700 pounds of food and more than $1,600 in donations.