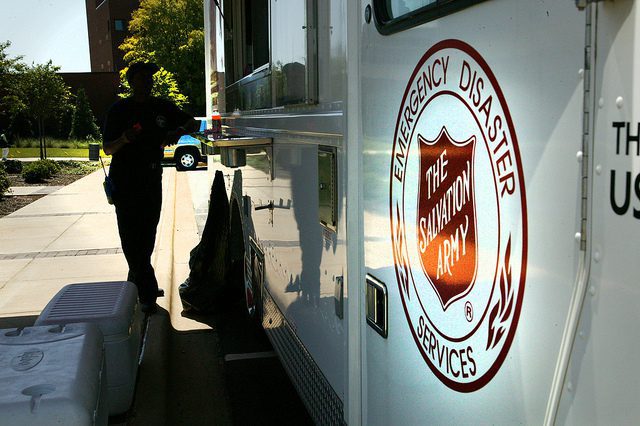 How you can help after the shootings in El Paso and Dayton
Multiple mass shootings claimed 31 lives across the U.S. the weekend of August 3-4. The shootings, first at a Walmart in El Paso, Texas and about 13 hours later in a popular district for nightlife in Dayton, Ohio, joined a growing list of mass shootings in the U.S.
According to The New York Times, which defines a mass shooting as a single shooting incident that killed three or more people, the shootings were the 31st and 32nd mass shootings in 2019 in the U.S. The statistics are heartbreaking. And overwhelming. And you might feel like there's nothing you can do. 
Here at Caring, we believe good starts with you. There are ways you can help after the shootings in El Paso and Dayton, even if you're not located in either of those areas. 
Donate to those affected in El Paso, Texas
Nora Aviles, acting Emergency Disaster Services (EDS) coordinator for The Salvation Army in El Paso, told New Frontier Chronicle  she got a call from the local American Red Cross director requesting The Salvation Army's canteen support shortly after the shooting.

"We got ready," she said. "It's our job to serve the community. So we knew it was time to go to work."
The Salvation Army first supported first responders with water and snacks at the designated law enforcement site before expanding its response to the Pebble Hill Police Station Regional Command Center and the Family Reunification Center.  At the Family Reunification Center, the Army had two case managers on-site in addition to several soldiers from El Paso Corps.
The Salvation Army will serve in El Paso for as long as it is needed. 
"The law enforcement officers noted that, at the beginning of [an emergency response] everyone is typically strong and helping and serving, but in other cities it tends to die down after a week, two weeks," Aviles said. "I reassured them that we're here to help them for the long haul."
You can donate here, and designate Disaster Services.
Donate to those affected in Dayton, Ohio
"The Salvation Army was contacted in the early morning hours of August 4th, 2019 to respond to a shooting incident that killed nine people and injured 26 more at a nightclub in Dayton, Ohio. An emergency canteen and an emergency disaster services team from Cincinnati responded to the scene providing hydration and emotional & spiritual care to survivors and first-responders. The Salvation Army also set up operations at the family reunification center established nearby.  While at this location EDS team members not only offered water and snacks, but emotional and spiritual care to those directly impacted by the event…The Cincinnati unit was released by the police department later evening but local Salvation Army personnel from the Dayton Kroc Center continue to be available." You can donate here.
Pray for the communities affected by the shootings
Major Robert Klenk, Divisional Secretary of Business Administration of the Southwest Ohio/Northeast Kentucky Division of The Salvation Army called for prayer in a post on the division's Facebook page:
"Friends, The Salvation Army encourages you to join us in praying for the victims and families of these senseless acts. As The Salvation Army continues to support the Texas and Ohio communities devastated by these tragic events, we would encourage you to join us in lifting the victims and families impacted in prayer."
Volunteer with The Salvation Army's Emergency Disaster Services (EDS)
When The Salvation Army responds to a natural disaster or emergency situation, like the El Paso and Dayton shootings, it does so through its Emergency Disaster Services, which relies on volunteers. Sign up to become a volunteer so you'll be ready to help if disaster strikes in your area. As a volunteer, you'll play a critical role in ensuring those affected by disasters and catastrophic events will have their basic needs met.