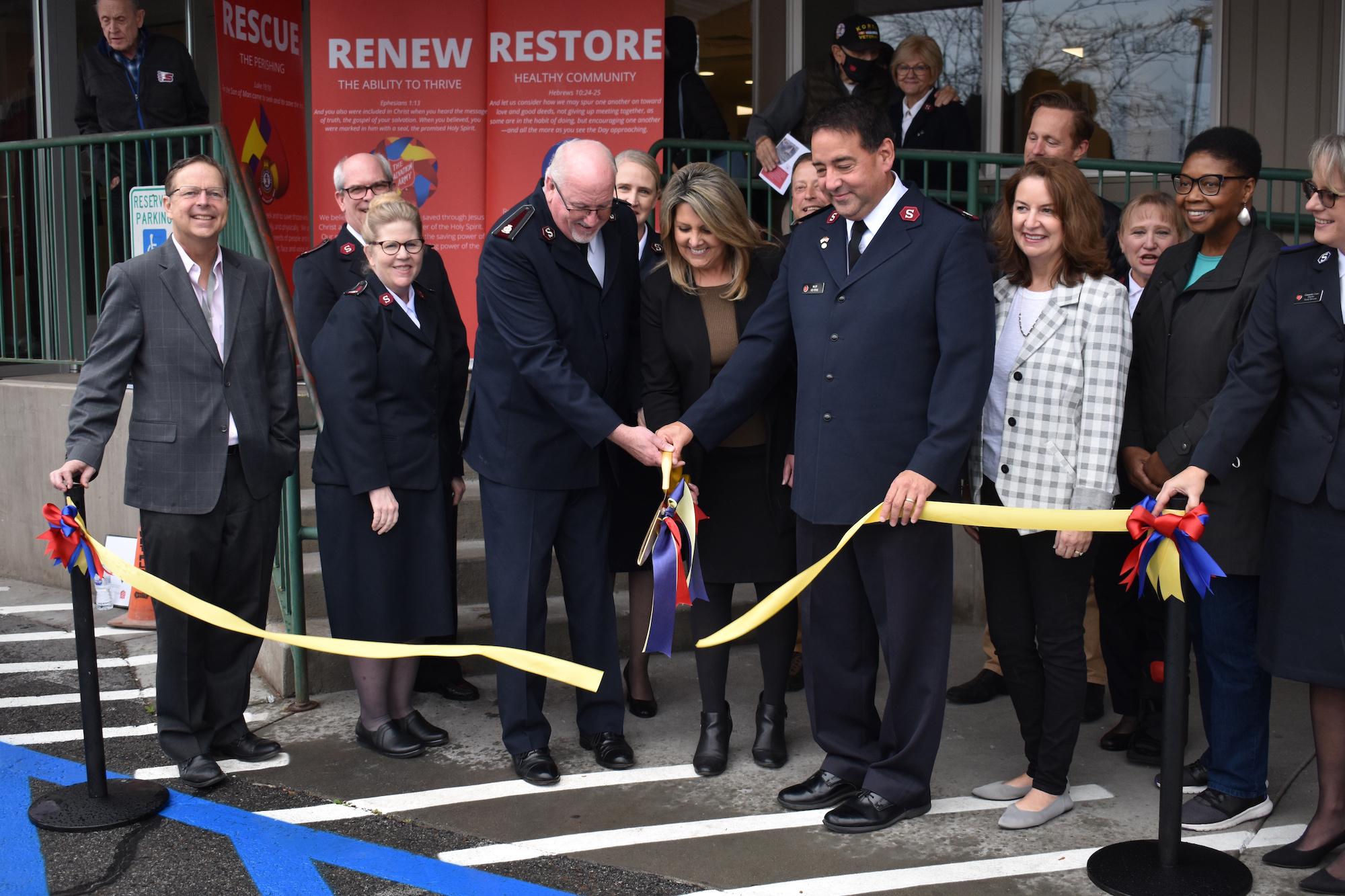 How The Way Out Bridge Housing Center is helping fight barriers in Spokane
The service-intensive program can help up to 60 adults make the transition from the shelter system to permanent housing in Washington.
Modeled after The Salvation Army's Bell Shelter (California), The Way Out Bridge Housing Center is providing people with all the support needed to transition out of homelessness in Spokane, Washington.
The Way Out Bridge Housing Center, operated by The Salvation Army's Spokane Citadel Corps, opened its doors to the public on Dec. 22, 2021.
Three years prior, Major Ken Perine, the Corps Officer and Executive Director for the Spokane Citadel Corps, said he began discussing plans for the center with former Spokane Mayor David Condon.
"I said [to Condon] we need to have a better plan than just housing people for the sake of housing them." Perine said. "That's not the way the Salvation Army [operates]." Rather than solely providing shelter and food to those experiencing homelessness, Perine said the center aims to surround people with the resources and encouragement "to make real life changes."
As plans for the transitional housing center progressed, Perine said he worked with Spokane county leaders to develop a program suited to support individual needs in the area. "Then COVID happened," Perine said. In an effort to reduce the spread of COVID-19, the center's facility pivoted to fill the need for emergency sheltering with space for social distancing.
After closing the emergency shelter in July 2021, the facility rapidly underwent remodeling to become The Way Out Bridge Housing Center that it is today.
There's a number of ways people can be referred and admitted into the program, said Gerriann Armstrong, The Way Out Bridge Housing Center Program Manager. "The very first way and the most common way is self-referral," Armstrong said. "Somebody hears The Way Out is open and they [potentially] had a good experience at our COVID shelter, so they come to see what the requirements are and if they would be a good fit [for the Bridge Housing program]."
In addition to self-referrals, the center works in partnership with a homeless management database system as well as county and city outreach teams to provide more referrals. Local police departments and treatment facilities also help refer people to the program "in order to really capture as many people as possible to have opportunities," Armstrong said.
In February, Armstrong said the center served 55 people. At the end of March, the center reached close to 60 individuals, which was the goal, she said.
When individuals enter the program there's a minimum two-week commitment, Armstrong said. "We're not a traditional shelter where you come in, lay down and go to sleep, get up and take all your belongings and go again," she said. "It takes people a little bit of time to trust that their belongings are safe and that they're safe and can share their struggles."
During the interview process, Armstrong said she asks each person what their plan is for exiting homelessness in order to identify what areas of life a person may be struggling with. For some, this could mean needing help obtaining a social security card or other personal identification, for others it's securing employment or gaining the confidence to live independently.
"Every person's case is unique," Armstrong said. By listening to each program participant's needs, the center aims to go beyond the services and support offered at traditional shelters and build lasting relationships and community.
"We want to make sure that this is the last stop in exiting homelessness for them," Armstrong said.
Many people seeking to enter into the center's program have experienced what's considered "permanent homelessness"—what The National Alliance to End Homelessness defines as when an individual experiences homelessness for at least a year while "struggling with a disabling condition such as a serious mental illness, substance use disorder, or physical disability." These individuals also need more support to secure affordable housing outside of the shelter system, Armstrong said.
When addressing matters related to mental health or addiction, the center refers people to local groups and treatment facilities, including nearby Salvation Army Adult Rehabilitation Centers and programs.
In March, the center offered a relapse prevention workshop that taught individuals how to identify triggers for relapse. To further support program participants who have struggled with addiction, the center offers Celebrate Recovery nights each Thursday to help build community and a network of support.
"We not only bring our guests from The Way Out, but we are [also] going out to the other providers and picking up people who are interested in clean and sober living and are needing that relational component," Armstrong said.
The Way Out Bridge Housing Center, Perine said, fits The Salvation Army of Spokane's mission to rescue the perishing, renew the ability to thrive and restore healthy community.
One component of restoring healthy community, Perine said, is the 16 hours of community service program participants are required to serve each month. For many, these hours of service begin at The Salvation Army's food bank in Spokane.
"As the recipient of a food box in the past, the idea of being the person who now is trusted to shop with somebody else is huge. It's usually the very first thing that they're like, 'Wait, I'm now the giver, not the receiver,'" Armstrong said. "That's a big day for them."
---
Do Good: