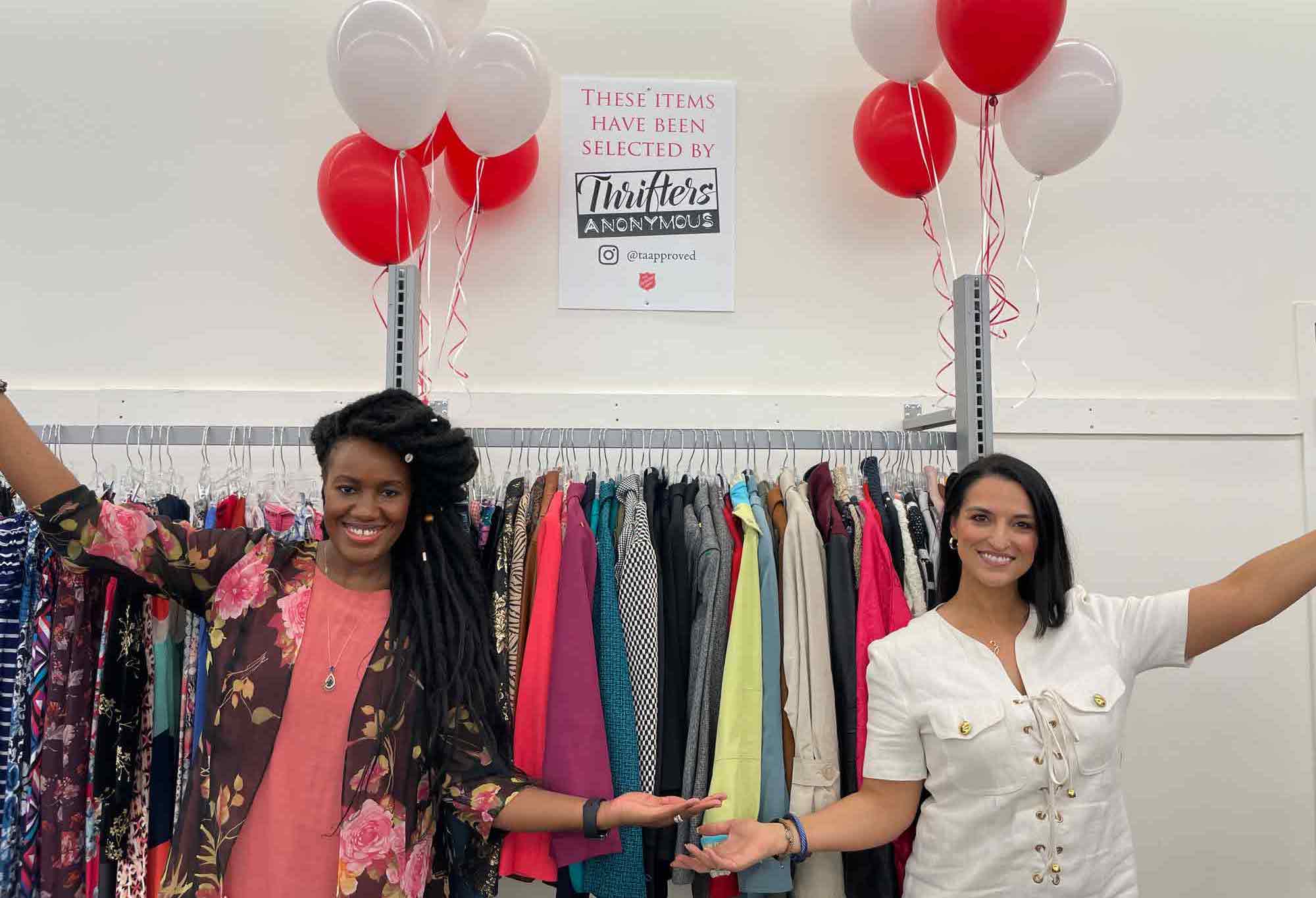 How one Salvation Army thrift store is partnering with thrifting experts
Las Vegas Salvation Army Thrift Store partners with influencers from Thrifters Anonymous to debut a hand-selected clothing rack twice a month.
Instead of scouring through every item in The Salvation Army Las Vegas Thrift Store on East Silverado Ranch Boulevard, shoppers can head straight for the hand-picked selections of Shana Dahan and Edwina Registre. The Thrifters Anonymous duo selected their favorite pieces to showcase.
"It's one of our favorite places and it's something we always wanted to do," Registre said. 
"Our dream has come true." Dahan added, "The hope is that people will go to The Salvation Army and know where the money is going—to help people in the community." 
More than 10 years ago, when Dahan and Registre began making YouTube videos to share their thrifting adventures and styling tips—Dahan said trips to Salvation Army thrift stores often went unrecorded because they considered the stores their "secret thrifting" spots. 
"We didn't like to film there," Dahan added, mentioning how she feared others would come to snag the best items before them. Registre said she also noticed how Salvation Army thrift stores receive "different types of donations," including quality vintage items.
"The generation that grew up with The Salvation Army—the older generation, the baby boomers—you can tell the quality of items they give versus the other competing stores that receive most of the new items that are quickly discarded," said Registre, touching on how fast-fashion brands often flood the racks at other thrift stores.
With the rise of thrift influencers on social media, Nicole Wessendorf, Public Relations and Community Engagement Manager of The Salvation Army Southern Nevada, said she wanted to find a creative way to get people involved in the thrift store's mission.
"I know these influencers shop at Salvation Army stores, but they may not realize what that actually benefits," she said. By simply buying or donating used clothing, housewares or furniture you can directly help change lives." 
Proceeds from Salvation Army thrift stores fund The Salvation Army's cost-free, six-month Adult Rehabilitation Center (ARC) programs to help those struggling with drug and alcohol use. At the Las Vegas ARC, Administrator for Business Major James Boyd said about 500 people go through the program each year, with 87 beds available for men and 30 for women. 
"It's a totally free program," Boyd added. "The only funding is from four wonderful thrift stores throughout Las Vegas and the donated items people give us." No matter how people find their way into the ARC program, Boyd said it's his job "to offer the help and make miracles happen." 
"It's actually shopping for good," Wessendorf said. "You can feel good about your decision to shop and donate to us because it's going to a good cause and staying local to help those in need in our community."
To help raise awareness of the thrift stores' mission, Wessendorf said she invited local influencers to help pull 1,000 items to be tagged as free in the five days leading up to National Thrift Shop Day on Aug. 17. While selecting items for the promotion, Boyd came to share the work of the ARC.
Then after celebrations ended, the Thrifters Anonymous duo approached Wessendorf with the idea to curate an expertly thrifted clothing rack. After working with Boyd and the store's general manager, Wessendorf said everyone was "completely on board" and Dahan and Registre returned to make their final selections.
"I think a lot of shoppers who may never have thrifted before will find this more approachable," Wessendorf said. "Hopefully the store really benefits from the added foot traffic and The Salvation Army benefits from a growing awareness of what the thrift stores and the ARC does."
To debut the rack, a live event and ribbon-cutting Sept. 3 also drew some Thrifters Anonymous fans looking for unique pieces.
"It warms our hearts and makes us happy to thrift, obviously," Dahan said. "But at the end of the day, it felt really good because we knew we were doing something really good." 
Both Dahan and Registre grew up as children of immigrants. They said thrifting was essential.
Registre said when they first started thrifting, it was out of necessity. "We would go to our local Salvation Army before we shopped anywhere new," she added. "That was my introduction to shopping and saving."
Back when the pair met in the early 2000s, Registre said certain "stigmas" were associated with shopping at thrift stores. "No one in high school wants to say they got their Levi's from The Salvation Army—but we did," Registre said. "Our parents used it, we were brought up into it and our love for it has grown."
Dahan said she used to feel "embarrassed" to be seen shopping at The Salvation Army but her mother quickly assuaged her fears by saying, "Well, if they see you here, they're here." 
Before Dahan found her love for thrifting, she said she was "consumed with what people thought" of her based on her clothing. "For a good part of my life—probably the majority of my life—I wore what I thought I was supposed to wear," she said.
For these thrifters, personal style is more than "just looking cute." It's expressing on the outside who they are on the inside. Through thrifting, Dahan said she was able to discover her true identity by exploring how to represent herself to the world. "I think that's what helped me evolve into who I am today," she said.
Registre said in her own life, she's noticed how clothing can impact her mood. "The first thing you put on is really going to dictate your day," she said. "It's really just like connecting your mind to your body to your skin."
As thrifting continues to rise in popularity, these thrifters said they see fewer stigmas and more opportunities for younger generations. Dahan said she hopes younger generations can use thrift stores to "discover who they are" while discarding the trends and creating their own.
"We used to go there for trends and now we go there for inspiration," said Dahan. "Whether it's on trend, off trend, old, new, it doesn't matter. We love it."
---
Do Good: