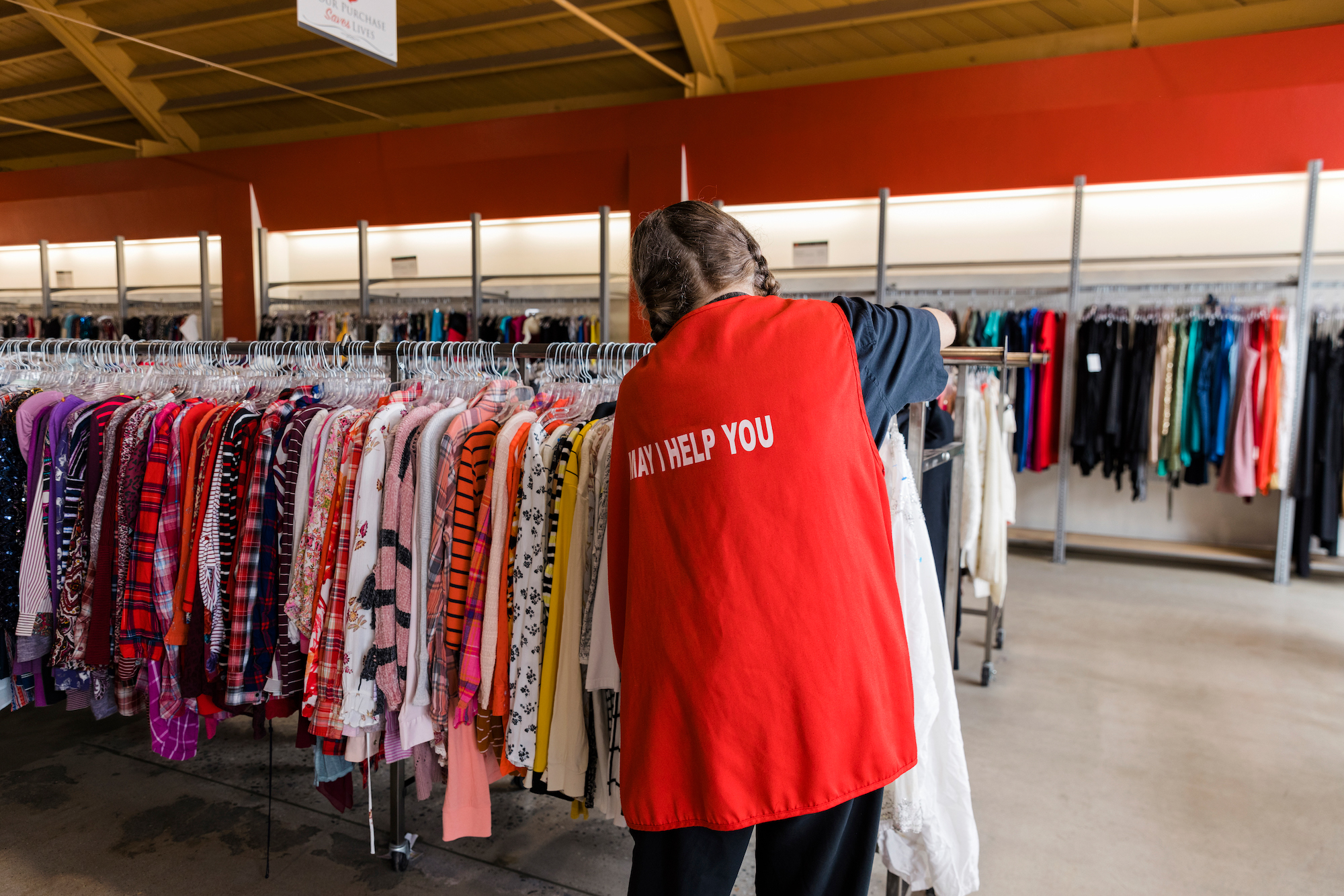 A former Salvation Army thrift store becomes one stop shop for food and clothing needs
Sally's Resource Center expands Prescott Corps' family services.
When The Salvation Army closed its thrift store in Prescott, Arizona, leaders didn't want to send the wrong message. The shuttering of the store in October 2021 did not mark the end of the efforts to meet human needs in the area.
"The Salvation Army is not going anywhere," said Prescott Corps Officer Captain Tony Poe in a press release announcing the closure. "This decision allows for a shift of local resources so we can better provide vital programs and social services to the community."
Despite many years of providing low-cost options for clothing and household goods, the thrift store had not been profitable since 2015. Combined with a pandemic-related staffing shortage, there was really no other option but to close, Captain Tammy Poe said.
Just as thrift stores provide new beginnings for donated items, so did the former thrift store space. The corps transformed it into Sally's Resource Center, dividing the space into thirds for a "Farmers Cut" fresh food area, client choice food pantry and clothing closet named Sally's Closet.
"When the store closed we noticed that people were saying that 'The Salvation Army has left the community' and that wasn't the case," Tammy Poe said. "So we decided to revise the store and make it useful for our family services."
Sally's Resource Center opened at the end of January. The center, attached to the corps, is already gaining in popularity.
"The word of mouth is getting out, and right now with the cost of food in the stores, we have seen an increase," Poe said.
Across the U.S., food prices have risen by more than 8 percent year-over-year, according to the U.S. Bureau of Labor Statistics Consumer Price Index Summary. The Sally Resource Center offers two options for those needing assistance.
Prior to adding the client choice food pantry or Farmers Cut market, Poe said the corps would serve 12-17 families a month with pre-made food boxes. Now, with the revamped model, they are serving more than 70 families a month through the client choice food pantry alone, and the number is growing, she said.
In the client choice pantry, people grocery shop for their food using a points system. Poe said the corps urges visitors to get enough food to make three meals, and to take up to three meats from the pantry's freezer.
The Farmers Cut area offers a daily choice of bread, vegetables, sandwiches, salads and dairy products donated from area stores through St. Mary's Food Bank. Farmers Cut is open Mondays, Wednesdays and Fridays. On those days, between 30-45 people receive services, Poe said, including families, seniors who are looking to supplement their food and people who are experiencing homelessness.
Volunteers have given that area of the former thrift store a grocery-store feel.
"It's so beautiful how the volunteers have done. They've owned it," Poe said. "It almost looks like you're going to a farmers market."
The volunteers, Dave and Kathryn Duryee, first came to serve at the Prescott Corps five years ago after learning about the opportunity from another volunteer. The pair had been looking for a place to give their time along with their other volunteering engagements.
"The two of us are very spirit-motivated in serving," said David Duryee. "We kind of look at it as our ministry to serve our patrons."
Duryee said Kathryn volunteers every weekday at Sally's Resource Center, and he serves during food distribution days: Monday, Wednesday and Friday. Those days, he said at least a dozen Chiquita Banana boxes arrive filled with food that needs to be organized—he sorts and sets up food donations by category, drawing from his grocery experience in his employment background.
"It's a matter of unloading these boxes and setting them up on shelves so they are most attractive to the patron when they arrive 2-3 hours later," he said.
Duryee said he and Kathryn usually finish by noon on the distribution days ahead of the 1 p.m. start of the food distribution. In the past, they've been present when the patrons came to shop, and Duryee said it was rewarding to see their reactions.
Today, he said he is often approached by patrons who express their heart-felt appreciation for the "mini-marketplace" at Sally's Resource Center during his daily walks around downtown Prescott.
"That is one of the priceless rewards for volunteering—to know you are making a positive difference in the lives of those who are in need," he said. "Kathryn and I are grateful we can be members of a ministry team at Salvation Army Prescott Corps that is committed to serving the homeless in our community."
The Prescott Corps provides showers to clients on weekdays, and leaders found that the clients put back on the same dirty clothes in which they came. Now, with the final aspect of the Sally Resource Center, Sally's Closet, clients can select clothing from the former thrift store's inventory, including new socks and underwear.
"We're just blessed that we have the store still to be used in the ministry," Tammy Poe said. "The Salvation Army has not left Prescott; we are still servicing our clients."
---
Do Good: