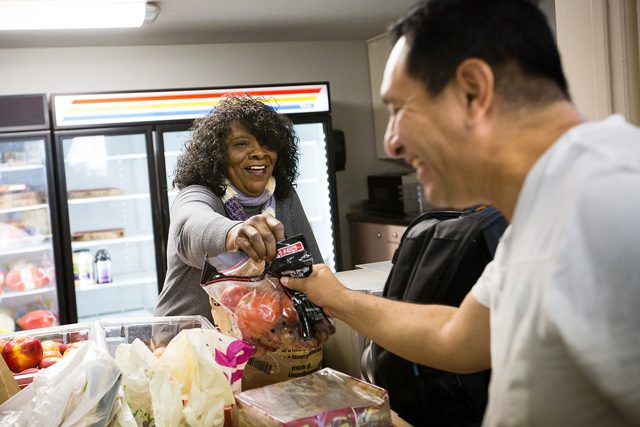 The future of food pantries?
Client choice food pantries are helping reduce waste and restore dignity in clients.
By Caitlin Johnston –
Millions of people take for granted the ability to go to a grocery store and pick out what food they want to eat. But for those who rely on food pantries, choice has never been an option. That is, until a new model, known as "client choice," emerged and is now in place at a handful of Salvation Army corps in the Western Territory.
It's a simple, but impactful change. Instead of handing people bags or boxes of preselected foods, The Salvation Army allows clients to "shop" for their own items.
In Glendale, California, one of the newest client choice food banks to open, shoppers have to schedule appointments beforehand. They pair up with a Salvation Army volunteer who walks through the storage area with them while they pick out the appropriate number of items. The shelves are tagged with different colors indicating how many of each are available: for example, three grains, two meats, two dairy.
"We are giving the dignity of choice to each of our clients," said Glendale Social Service Manager Jazz Santillan. "We have people coming to our doors and thanking us for caring for them, for giving them a choice and voice, and for allowing them to make decisions for themselves."
The benefits are clear: less food waste, more one-on-one interaction and client empowerment.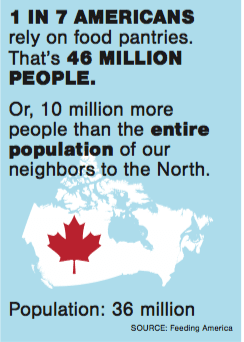 The food waste is the most visible change. Many times at traditional food pantries, people will toss out items for any number of reasons, including personal taste, dietary restrictions, and religious constraints.
"If you have a trash bin outside your corps, you can see they dumped whatever they didn't want into that," Territorial Associate Secretary for Social Services Captain Mary Libby said of traditional food pantries. "But I think the biggest thing is the ability for the client to make the choice. It boosts moral and it's good for self esteem. And the clients and staff get to know each other."
The client choice model is also aimed at trying to provide people with healthier meals and avoid the negative effects associated with traditional models. Research shows that people who visit food pantries have high rates of food-related health problems, including diabetes, heart disease, high blood pressure, and obesity. For instance, non-perishable canned goods tend to be high in sodium.
But Libby said many of the facilities are moving toward more nutritious options. And allowing people to pick their own items affects everything from the type of produce they prefer to avoiding sugary foods and other threats to those with diabetes.
While the model has numerous benefits, replicating it can be tough. For one thing, a corps needs the right type of space to house the new system. Some corps have come up with creative, temporary options, such as using a gym, auditorium, fellowship hall, or other large room in the facility.
But much harder to get around is the extra manpower needed to operate a client choice model instead of a traditional food pantry. Santillan said they'd only need a few volunteers to fill boxes with the old model. Now, the corps also needs to gather volunteers to act as "personal shoppers" who go through the shelves with each of the customers.
"We've had to increase our volunteer staff to make this happen," said Lt. Jennifer Shiflett, Glendale Corps Officer. "Not only to make sure the rules are followed, but to also create those deeper relationships."
Shiflett said she couldn't think of any reason outside of proper space and staffing for other corps not to implement the model with appropriate planning and consideration.
In addition to Glendale, The Salvation Army is also operating client choice pantries in cities throughout Washington, in Spokane, Renton, Tacoma, Walla Walla, Seattle, Bremerton and Port Angeles, to name a few. El Cajon, California, is also hoping to add one with a new building project, according to Libby.
"Modified" client choice pantries, which utilize pre-packaged items as well as client choice, have likewise sprouted in Anacortes, Centralia and Everett, among other locations.
"This is a place where they feel as though they can have the integrity of making a decision about their life and feeling as if they are in control of their food choices," said Margaret Light, Seattle's Pike Street Program Manager.
Santillan said the Glendale Corps has an open door policy for any clients who are new or homeless.  
"Our clients were shocked when they first realized the change," Santillan said. "They were a little nervous, but it was a very exciting transition, to be quite honest. We're learning about our clients all over again."