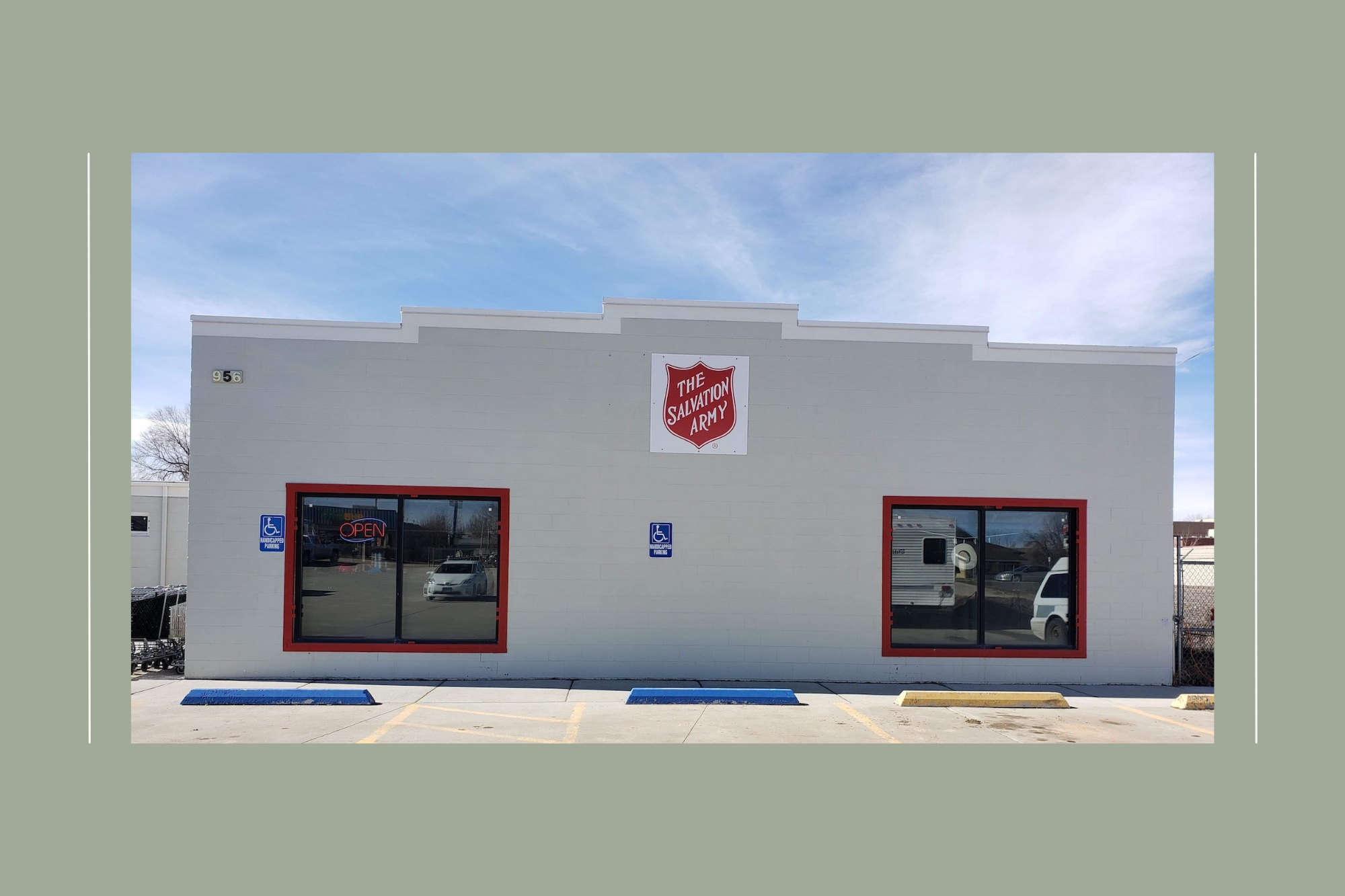 How one Wyoming thrift store extends its ministry by serving the community
Sheridan's Salvation Army Thrift Store is making an impact for good by keeping God as the focus.
"We recognize that the thrift store is absolutely an extension of the ministry in every single aspect," Salvation Army Thrift Store Manager Envoy Evie Dobney said.
Three and a half years ago, Dobney moved to Wyoming with her husband, Envoy Gary Dobney. The pair serve as pastors for The Salvation Army corps (church) in Sheridan. Similar to Salvation Army officers who are trained and commissioned as ministers of religion for Salvation Army corps, the rank of an envoy is given to a Salvationist who performs corps ministry duties as a non-commissioned officer.
In addition to helping keep the corps ministry running, Dobney said she took on the responsibility for managing the corps' thrift store. "I asked if I could work at the thrift store because when I got here it was in really bad shape," Dobney said.
In the past, Dobney said the thrift store and the corps operated separately, meaning ministry work rarely made its way from the chapel to the store. With help from leadership at Salvation Army's Intermountain Divisional Headquarters, Dobney said she received support on how to carry ministry work through to the thrift store.
"They work hard and invest in keeping God in every aspect of running a thrift store," Dobney said.
Throughout her time managing the store, Dobney said she's seen firsthand how "when people genuinely care for each other, communicate and keep God as the focus" it creates a better work environment.
As a life-long thrifter, Dobney said she also wanted to change the public's impression of the store, which she said had gained a "bad reputation" over the years. "It was not taken care of," she said. "It was dirty, smelly and they weren't utilizing space [well]."
Previous employees expressed they felt "as if they weren't important," Dobney said. "People were using words like 'it's just a thrift store.' How sad is that? I work at 'just at a thrift store.'"
"We don't undo what was previously done for the Kingdom," Dobney said. "We really try to carefully and methodically build upon what is already there, to know the people by learning what their story is, and especially relying on the Holy Spirit for the 'what next.'"
Part of changing a thrift store from the inside out? Renovations.
"We started with prayer–a lot of prayers," Dobney said. During the early stages of the renovation process, Dobney said she would meet with her team of employees and pray together.
"That was a new thing," Dobney added. "But you know, we're The Salvation Army. We are a church. We love our Lord. We genuinely, absolutely love our Lord. And that's the bottom line. That's where it all comes from."
In order to continue improving the store beyond physical renovations, Dobney said she first asked employees what they thought needed to change and then she approached the community for feedback.
"You have to look at the demographics of your area…the needs of your people and provide that," Dobney said. "We had to get out in the public and talk about what we're doing and what can we do to make shopping here better."
By connecting with other people and organizations in town, Dobney said she was able to provide outreach in ways that would not have been possible without taking the first step in getting to know the community and their needs.
When customers come in looking for something specific that the store doesn't currently have in stock, Dobney said employees will keep an eye out in the warehouse and set items aside for when customers return.
"We know people by name, and they know us," Dobney added.
Over time, Dobney began to build relationships with local schools, animal shelters, food banks and community members looking to make a difference.
Finding the right people to work at the thrift store was a process of "trial and error," Dobney said. "The Lord has brought in people that didn't work or did work and it was good to see both."
"Through prayer and a lot of patience we got some really terrific people," Dobney said.
To new employees, Dobney said she "lay[s] it down immediately," and lets prospective employees know that "this is not just a place for somebody to land until they find a better job. This is a family."
"If you're going through anything, we have this ministry. This is what we do. You just tell us what you need and we're there for you," she added.
Dobney said she wants her employees to know that they matter and their work is serving to fulfill a higher purpose in providing for those in need.
Dobney said thrift store proceeds cover the costs of corps' programming, including The Harvest food assistance program, a "shopping-style" food pantry where people have the freedom to choose foods to best fit their dietary needs, and rental and utility assistance.
"I praise God that we now have all our employee positions filled and not only that–God has blessed us with people who love him and see the ministry within the work," Dobney said. "If you're going to be representing The Salvation Army, you're representing God first. You cannot forget who you're working for and it's not The Salvation Army–you're working with The Salvation Army for God."
Assistant Manager Suzie Bartlett said Dobney's leadership is "enthusiastic" and "outgoing." "She touches base with everybody when she's here," Bartlett said. "The environment is happy and awesome."
Bartlett said she chooses to continue working with The Salvation Army because "it's the way God has led [her]."
"I just love being with the community and with the people and the employees," she added.
Compared to jobs she's had in her past, Bartlett said she wakes up excited to go to work. "There's stuff that I want to do and I love it here. It's just a really good change for me."
Two years ago, Bartlett worked as a traveling certified nursing assistant but said she felt "something just didn't feel right." After talking with Dobney's husband at the corps, she said she realized God was leading her down a different path.
Outside of her role at the thrift store, Bartlett attends the Sheridan Corps as a Salvation Army soldier and teaches Sunday school for adults. "My role with The Salvation Army doesn't end when I'm standing in front of everybody at Sunday school—my ministry extends past that," Bartlett added.
To Bartlett, she said implementing kindness and understanding The Salvation Army's mission helps employees to work better together. "This isn't just a job," Bartlett said. "You're working for God and working with the community."
---
Do Good: