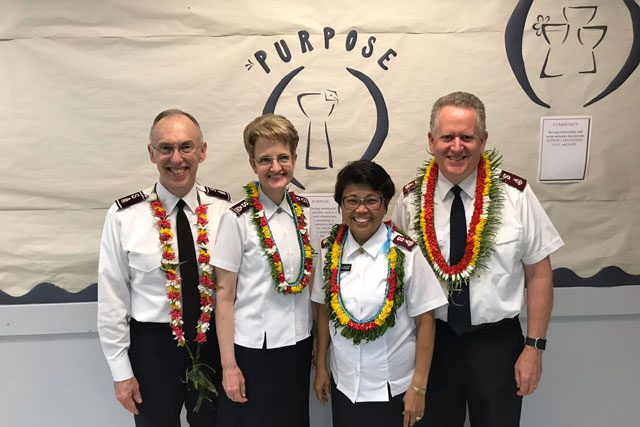 Hodders visit far reaches of Western Territory
Territorial leaders travel to the Marshall Islands, Federated States of Micronesia and Guam.
Territorial Leaders Commissioners Kenneth G. and Jolene K. Hodder traveled to the Central Pacific Ocean—the Marshall Islands, Federated States of Micronesia and Guam—Oct. 25–Nov. 5, continuing their "lightning" visits of The Salvation Army's ministry in the Western Territory. Hawaiian and Pacific Islands Divisional Commanders Majors Jeff and Eloisa Martin accompanied them on their tour.
Lightning visits acquire a new meaning when traveling to more remote locations, with limited and delayed flights and impending typhoons. In fact, Super Typhoon Yutu struck the Northern Mariana Islands on Oct. 24, preventing the Hodders from visiting the Saipan Corps.
The islands are not as close together as one might imagine; they lie in several different time zones, including Chamorro Standard Time, Ponape Time and Marshall Islands Time. Indeed, the Western Territory may boast the largest variance in time zones within one territory.
"We are in our own territory yet 19 hours ahead of our own THQ [territorial headquarters]," Jolene K. Hodder said. Looking at the distance, Guam is 6,100 miles from Long Beach, California, and 3,800 miles from Honolulu.
The Salvation Army is growing in Micronesia. While in Chuuk, the Hodders officiated at the enrollment of junior and senior soldiers, adherents and local officers.
Hodder spoke of the nature of the people as well as the environment.
"When I think of our Army family in Micronesia, I will remember the warmth of the people with their bottomless grace and generosity," she said. The lush beauty of its nature and the restful simplicity of life on the islands is enticing. It is a world away from our own, yet a vital and exciting part of our territorial family and work."
Among many adventures during their time in the Pacific, the Hodders found themselves part of a parade while en route to the airport in Pohnpei, Micronesia—and they were spotted by an old acquaintance who now lives there.
Kenneth G. Hodder spoke of The Salvation Army's impact in these communities.
"My wife and I will never forget our first trip to Guam, the Federated States of Micronesia, and the Republic of the Marshall Islands," he said. "To see what the Army is doing in the far-flung islands of the Central Pacific is at once thrilling, overwhelming and deeply humbling. There is no doubt that the Army needs to be there. God is richly blessing the sacrificial ministry of officers, ministry leaders, local officers and soldiers in so many ways, and there are innumerable opportunities for the future.
"I strongly urge all Salvationists to pray for and support the Army's ministries in the islands."