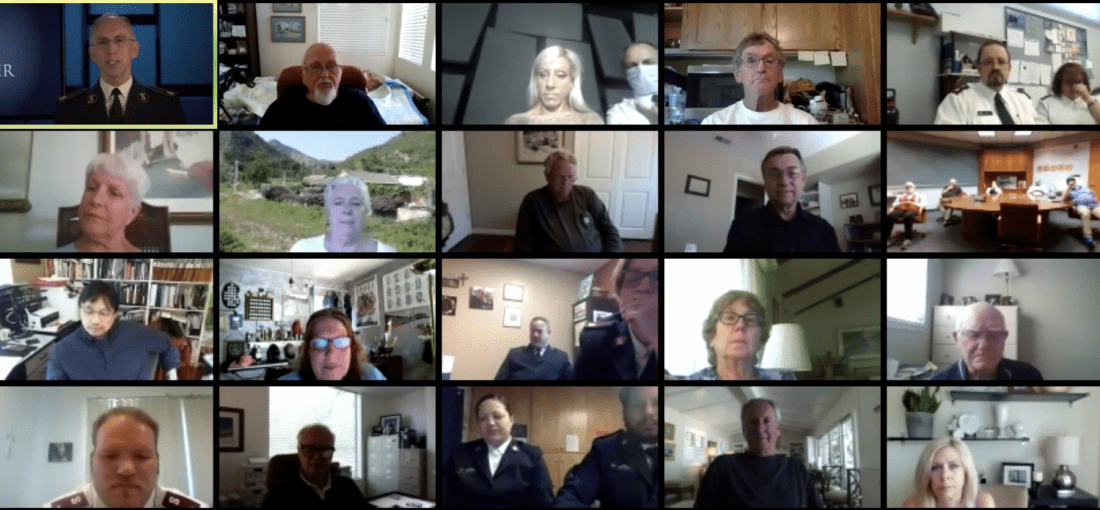 Hodder updates advisory board members across the West
Territorial Commander Commissioner Kenneth G. Hodder hosted eight divisional advisory board meetings via Zoom this week to update advisory board members from across the territory on The Salvation Army Western Territory's response to COVID-19. The ninth meeting is scheduled for April 29, and already more than 850 people have joined in.
"The Salvation Army needs your help," Hodder said at the start of the meeting April 23 with roughly 150 board members in the Del Oro Division. "One of the best things the advisory board can do to help us address this crisis is to share what's happening."
To that end, he offered three points for board members to know.
First, the Army's geographic footprint is vast.
"When a situation occurs, it's not a matter of The Salvation Army bringing a team together and going in to address it," Hodder said, noting the Army's presence in 131 countries and every zip code across the U.S. "The Salvation Army is already there, and we know the needs of the community."
The Army's 7,600 locations across the country met the needs of 23 million people last year, he said. "You can imagine what the figure will be for this year."
Hodder noted that every location has been made available to every level of government to meet the needs in this crisis—"shelter, testing, food distribution, The Salvation Army is making use of everything it has."
Second, The Salvation Army is a direct service provider. 
"When The Salvation Army receives a donation, it goes directly to those in the most need," he said. "The figures we're seeing are unprecedented. To serve 1 million meals in the course of five weeks—I've never seen that in the course of my career."
On screen, Hodder shared an infographic of the territory's services distributed since March 13: 1 million meals, beverages and snacks; 425,000 food boxes (with five days of food for four people); 175,000 nights of lodging; 86,000 PPE and hygiene kits; 80,000 instances of emotional and spiritual care; and 75,000 volunteer hours.
"We also have to remember that we're in this for the long haul," he said.
Third, the Army offers holistic care.
"This virus does not only attack physically, but emotionally and psychologically and spiritually as well," Hodder said. "But we are not a single-purpose organization. We will continue to meet needs—physically, emotionally and spiritually—without discrimination wherever we can."
Del Oro Divisional Commander Major Ivan Wild shared details about the Army's service in the division, noting that 156,000 individuals have come to The Salvation Army in Del Oro for some type of service since mid-March.
In one example, from Santa Rosa, California, he shared that the Army is distributing food weekly at the local Silvercrest senior residence. One woman wrote a note that said getting the food box is like getting a hug as it's the only person she sees for the week.
"You can't measure that in a food box statistic," he said. "Every number has an incredible story."
Both Hodder and Wild then fielded questions from board members, some submitted in advance and others in the live chat.
Wild shared that the Army will return to regular operations in each location following state and county guidelines.
Hodder said any long-term budget adjustments will not affect the territory's ability to respond right now. "This is going to be a marathon and not a sprint," he said. He said the territory does not intend to use its endowment funds as it could exacerbate an already difficult situation. "If we have to, we will, but we are trying not to touch them," Hodder said.
The territory is ramping up fundraising and is applying for federal relief funds, though avoiding programs that involve loans, Hodder said. Available FEMA funds to support food and shelter services, for example, are currently being pursued with assistance from a special team at Deloitte.
Hodder also said the need for temporary shelter now provides the Army an opportunity to continue its efforts for The Way Out, a territorial initiative to double the Army's impact on homelessness in five years. "The temporary shelters being established now, in coordination with other organizations and government, we're hoping lead to alliances that will provide permanent shelter space."     
Finally, Hodder shared a one-minute video interview with Jared, an out-of-work chef in Los Angeles who recently received food from The Salvation Army.
"The statistics boil down to individuals and families in need," Hodder said. "We consider ourselves privileged to do this work because we believe God has called us to do it. And we will continue to do the most good for everyone who comes to us…we believe hope is greater than fear."
In closing, Hodder prayed for the advisory board members.
HOW TO HELP:
If you'd like to make a monetary donation, please click here to make a gift.
Text 'GIVE' to 52000 to make a $10 donation to The Salvation Army. This will automatically add a one-time donation to your next mobile phone bill.
For information about volunteering, please visit volunteer.usawest.org.
To learn more about how to support The Salvation Army's relief efforts, please click here.