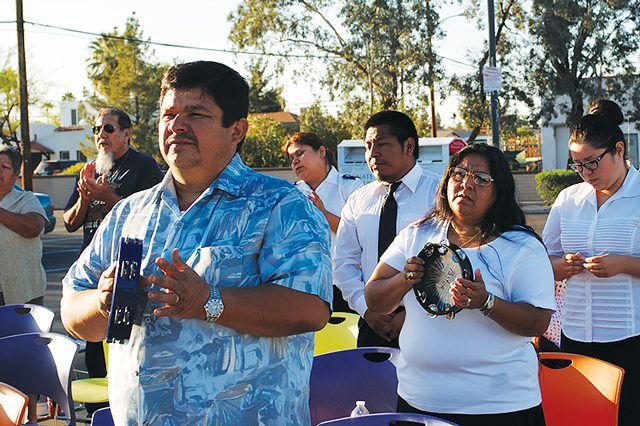 Hispanic corps experience growth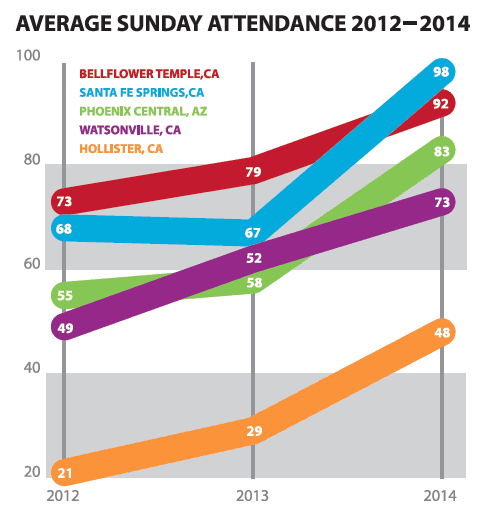 Sunday morning attendance increases at smaller Latino corps in the West.
 By Vivian Gatica –
As more ethnic corps develop throughout the The Salvation Army Western Territory, more opportunities for outreach have emerged. Consequently, many of the territory's smaller Latino corps experienced significant growth from 2012 through 2014, according to Western territorial statistics.
Here is a look at how five Hispanic corps broadened their evangelical communities.
Hollister Corps
In the agriculturally rich city of Hollister, Calif., Sunday morning worship attendance grew over 128 percent since 2012 at the local corps, led by Lts. Caleb and Iliana Montes.
"Through the word of God, we have been challenged and encouraged to be strong in our faith and to reach out to the lost," said Iliana Montes, who, along with her husband, became an officer last year in the Disciples of the Cross Session and accepted her first appointment as corps officer at the Hollister Corps. "We believe that strong faith and strong leadership is the key to having a well-functioning corps and we believe we are going in the right direction."
The corps received a $20,000 grant from The Salvation Army Golden State Divisional Headquarters to start a new youth music program. Montes said the corps will also open a small soccer field to accompany its basketball court in hopes of increasing youth involvement.
The corps officers are also working to make the congregation bilingual.
"We want the Hollister Corps to become 'the place to be' in our community with a full variety of services and programs and we are working hard to see it a reality," Montes said. "We believe that the Lord has brought people to the Hollister Corps that are passionate to follow him and serve him wholeheartedly and are ready to be his hands and feet in a hurting world."
Phoenix Central Corps
Located in the "Valley of the Sun," the Phoenix Central Corps has made a name for itself in the Hispanic community, increasing attendance at its Sunday morning worship service by nearly 51 percent in the last two years.
"We believe God has honored our faith and work," said Major Gil Román, Phoenix Central corps officer. Since arriving at the corps with his wife in 2012, Román said that achieving growth was a bit challenging, but they were able to do it by strengthening corps leadership and programs.
"We feel blessed seeing how people have grown and committed themselves to different areas of ministry," he said.
Román's hope is to see the leadership continue to develop, establish a successful discipleship program, and be able to witness growth from the inside out.
He said, "We've seen how God has changed our lives by creating a family [at the corps] that wishes to better itself by helping one another and helping each other develop our spiritual talents joyfully to minister and serve the community."
Bellflower Temple Corps
The Bellflower (Calif.) Temple Corps witnessed a 44 percent rise in its Sunday morning worship congregation between 2012 and 2014.
When Majors Moises and Maria Hernandez arrived at the corps in 2012, many corps members had left.
"Ever since then, it's been a development. We started from scratch," said Raymundo Jiménez, who grew up attending the Bellflower Temple Corps and has witnessed a strong sense of community there. "I think the simple fact that it's a Hispanic corps does a lot for us. Being Hispanic, just the culture itself—from the food to the language—is something that you don't get very often everywhere you go. So the fact that it's in Spanish and the fact that we're all here for the same reasons…gets us that much more related to one another to the point where we can get to know each other on a personal level."
While rebuilding its congregation, the corps focused on expanding and adding outreach programs, such as its senior food program, youth soccer team and community sewing room.
"We have grown, but more so externally because we believe that that is our vision," Maria Hernandez said. "We shouldn't only preach and fill the corps, but also help people learn of Christ."
According to Jiménez and Thelma Lozano, corps youth leaders, a major part of doing this is by reaching out to youth in the community to build future generations of leaders.
"We're not a sleeping corps," Lozano said. "We want to stay awake, we want to stay involved…When you have stable and committed leaders, you're able to function a little bit easier; it's not so hard to start from the bottom. My hope is that we are able to invite more people and make this church a home to others."
Santa Fe Springs Corps
The Santa Fe Springs Corps in Whittier, Calif., faced similar circumstances, as Envoys Manuel and Maria Martinez rebuilt the Hispanic congregation at the corps, achieving a 26 percent increase in Sunday morning worship attendance since 2012.
"We are fully convinced that God is the one who holds the church together," said Manuel Martinez. "We try and teach people when they come that The Salvation Army is more than a bag of food or financial assistance; the spiritual help is a response to the needs of the people."
Martinez acknowledged that the youth are part of this response, and tries to get them involved in ways that best fit their personalities.
"Through this we are able to make them feel part of the corps and keep them attending," he said. "The goal is to keep growing as a local corps…ministering to people and lifting up leaders from there."
Watsonville Corps
With a 49 percent uptick in Sunday morning worship attendance, the corps in Watsonville, Calif., has left a mark among Latinos in the community.
Soldiership class and Bible study attendance are likewise increasing.
"It's amazing to see how God, through his love, grace and forgiveness, transforms the lives of those who open their hearts to him," said Captain Melissa Viquez, who functions as Watsonville corps officer, alongside her husband Major Robert Viquez. "Other than strategies, what has led to our growth has been the love of God. It's important to both me and my husband that our community learns of God."
Despite space limitations, the corps keeps growing. Melissa Viquez hopes that the corps will soon have space to make program additions to better reach the community.
"When we walk close to the Lord, there isn't any obstacle that can stop us," she said. "When William Booth started his Army, he did it knowing that Salvationists would never give up. The challenges will never stop showing up in our path, but if we believe, we will see God's glory."