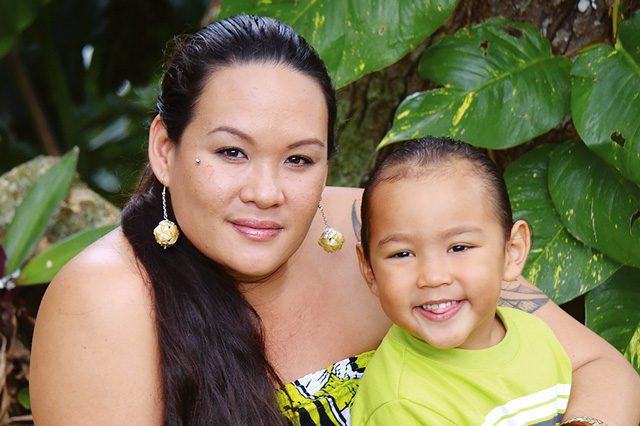 Three-phase recovery in O'ahu
The Salvation Army Family Treatment Services program is the only one in Hawaii that allows women in recovery to be with their children
By Brandi Salas –
"The Salvation Army taught me how to become a better mother, a responsible, sober adult and a culturally in-touch Hawaiian woman," said 33-year-old Kea Reeves, a single mother approaching her last months at The Salvation Army Family Treatment Services (FTS) on the island of O'ahu in Hawaii.
She's graduating with a degree in deaf studies and deaf education and will soon be reunited with her children. She plans to work with children with autism in Hawaii.
Reeves is one of many in The Salvation Army's FTS program for women struggling with addiction, domestic violence and profound trauma. FTS includes three stages of treatment and recovery for women: Women's Way (residential treatment), Ke Ola Pono (therapeutic living) and Ka 'Ohu O Mānoa (transitional housing). These stages also include outpatient treatment and case management.
Stage One: Women's Way
Reeves was 30 years old when she decided that she needed to change her life. She was a mother of four, an addict, and a methamphetamines dealer in South Kona.
"Something told me that I needed to wake up. I bought a ticket to O'ahu and a friend brought me to The Salvation Army's Addiction Treatment Center to detox," she said. But the detox program only lasted a few days. "I knew I needed more than that. I was losing hope after being clean for such a short time. I found a flier for Women's Way on their bulletin board, called their number and they took me in."
In a couple of weeks, Reeves entered the program. "It was structured; there were many rules in place and they protected us," she said.
She joined 18 other women who were enrolled in the Women's Way classes that taught them ways to survive, heal and avoid domestic violence and abuse. They also took classes on parenting, life skills, how to stay sober and deal with trauma. In the few weeks she was at Women's Way, she was reunited with her son, Baba, who was only a year old at the time.
Being with her youngest child gave Reeves a reason to continue her recovery. "We found that women who are mothers often left treatment early because they miss their kids so much; that's why this concept came up that allows women to bring their children with them," said Bebe Bainum, FTS case manager and Pathway of Hope coordinator.
The Salvation Army FTS program is the only program in Hawaii that allows women in treatment to be with their children. It provides childcare and therapy on campus, relieving the mothers of stress, works on the children's developmental issues and strengthening the mother-child bond.
"We bring back the connection with their children because it is going to help them stay sober," Bainum said.
Stage Two: Ke Ola Pono
Ke Ola Pono, or therapeutic living, gives the women more freedom to volunteer and take classes over a six-month period.
"There is still structure and the women are now armed with skills that keep them clean and sober," Bainum said. "There's accountability, rules, classes and more opportunities for them to practice their skills."
FTS staff members encourage the women to explore interests in order to be productive and stay sober.
"Being at Ke Ola Pono was rewarding," Reeves said. "Because I am hard of hearing, I know how to sign. My counselor encouraged me to volunteer as a sign language interpreter for families in need of services. I really enjoyed that."
Cultural interests are encouraged as well.
"I was also reintroduced to hula through The Salvation Army," Reeves said. "I found it was my way of staying sober; it's a spiritual experience that makes me feel happy."
FTS Cultural Integration Coordinator Emily Makahi incorporates cultural classes to help get the women  reconnect with traditional and family values.
"We look at healing from a cultural standpoint. Although we use Hawaiian culture because it's our host culture, we also look at the culture of motherhood, sisterhood and 'ohana (family). We encourage these women to connect to their own personal cultures," Makahi said. "For [Reeves], hula was an expression and healing aspect to her recovery and her instructor, Kumu Hula Kilohana Silve, helped her to establish a positive connection in the community, outside of Women's Way."
Stage Three: Ka 'Ohu O Mānoa
Women who complete the first and second stages of FTS and are in stable recovery can apply for a room in Ka 'Ohu O Mānoa, a transitional housing program for up to 12 women and their children.
"It's a chance for them to be independent; however there are some rules. They are required to be working or going to school and attend a weekly house meeting," Bainum said. "They are working toward that ultimate goal of being self-sufficient, sober mothers."
Reeves and her peers at Ka 'Ohu O Mānoa transitional housing are given opportunities to pave the path for a bright future.
"I feel productive and motivated by being here. My son, Baba, and I live in a safe place. I go to school while he attends preschool and on the weekends, we enjoy group activities like going to the movies or the museum," Reeves said.
In May, Reeves will graduate from the FTS program and enter the workforce as an educated, spiritual and sober woman. "I'm going to miss the people here, but I am prepared to live independently, stay clean, be reunited with my other children and have my own safe place to live," she said.
The Salvation Army's FTS program serves 43 families at full capacity. FTS aims to break the cycle of chemical dependence, and to help young children with emotional, behavioral and developmental problems to develop the skills they need to be successful at home and school.
"There's so much stigma that goes with women with addiction, especially with mothers. There's guilt, shame and judgment. Women respond in a different way to treatment—FTS is very feeling focused and provides the opportunity for them to express their emotions and talk about things that fuel their addictions. It's a tough program, a challenge, but it's a great program," said Bainum. "Once they walk through our doors in need of help and guidance, we hug them tightly, showing them that we care. We nurture them, keep them safe and support them."