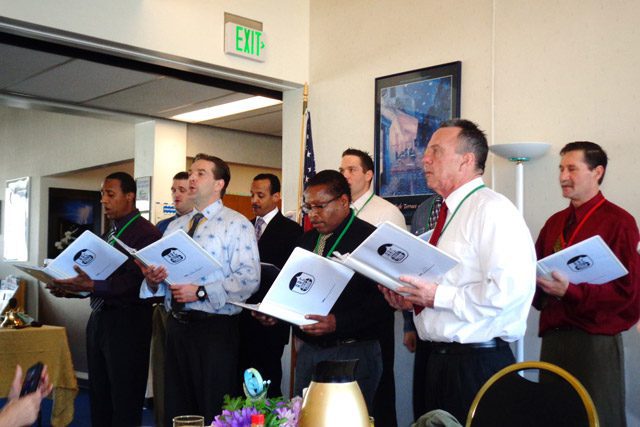 Harvest Initiative snapshot
Updates from around the West
The Western Territory launched its Harvest Initiative in 2011 to connect adult rehabilitation center (ARC) beneficiaries and corps members.
The territory annually admits more than 7,500 men and women into its 24 ARCs, a cost-free and biblically based six-month program to overcome addiction. Yet, historically, many of the 33 percent of beneficiaries who graduate each year had not transitioned into a corps—the Army's center of worship, growth and social care within a community.
As such, the Harvest Initiative set out to intentionally use Sunday school, Bible study, music, sports and service outreach as opportunities to build connection between people, along with intentional outreach to engage and welcome families of ARC beneficiaries and graduates.
Here, units across the West report on recent successes in the initiative.
Seattle
An ARC chorus including soldiers from the corps sings in Sunday worship at the Seattle Temple.
Las Vegas   
Roughly 10 percent of the Las Vegas Citadel congregation is made up of ARC alumni. The corps recently enrolled 15 adherents and one senior soldier.
Lodi (CA)
Ten ARC graduates secured local jobs last month.
Honolulu
Each week, the men of the Honolulu ARC attend the four corps on the Island of Oahu for both Sunday School and the morning worship service. Additionally, the men participate in the corps' volleyball and basketball teams, and attend men's camp.
At the Kaneohe Corps, two men have become soldiers and are actively involved each week. The ROCK Corps, which worships on the beach at Waianae, two graduates and their families are part of the church family. At the Kroc Center Corps, the bass player in the praise and worship band is a graduate, and attends with 10 other almuni and family. Similarly at the Kauluwela Corps, 10 alumni attend, three of whom play in the brass band and praise and worship band and six of whom are soldiers.
One alumnus enters the College for Officer Training this fall and another will soon complete a year of service with Revolution Hawaii.
San Jose  
Quarterly ARC and corps dinners bring roughly 200 people together; an ARC alumna teaches Sunday School and Bible studies at the corps; and children of ARC alumni attending the corps are now enrolled in junior soldier prep classes.  
Anchorage
Six beneficiaries are enrolled in classes to become adherents.
Newport (OR)
When a kettle worker from Newport, Ore., entered the Seattle ARC as a beneficiary, the corps stayed connected with her during her program. She graduated, returned to Newport and recently secured her own apartment. She now volunteers with The Salvation Army.
Hemet (CA)
The Hemet Corps enrolled 14 adherents and two new soldiers from the ARC program.  
San Francisco
The San Francisco Mission Corps started a Celebrate Recovery program at the corps with just four people and now has more than 60 attending each week. Several ARC graduates are now in soldiership classes.
Renton (WA)
One ARC beneficiary attending the corps said, "The officers at the Renton Corps see to it that we are properly introduced to everyone and make sure we feel at home wherever possible."
Rancho Palos Verdes
A training seminar March 22-24, hosted by the Territorial Correctional Services Department at the College for Officer Training at Crestmont, addressed effective ways for soldiers and members to reach out to their community.
Sessions by Dianna Bussey and Donna Bueckert, who are both engaged in the Positive Lifestyle Program (PLP) in Canada, focused on the curriculum, now called EMERGE. The change recognizes the fact that individuals can emerge from a life of destructive choices and become God-honoring members of society by depending on Christ, applying Biblical principles and engaging support.
One session focused on the importance developing comfortable relationships that keep people connected to the corps.
Healdsburg (CA)
Lytton Springs ARC  
A local volunteer, Herb Lieberman, runs life skills classes for Lytton Springs ARC beneficiaries for six weeks leading up to their graduation to assist in building a resume, preparing for job interviews and dressing for success.
Lieberman, a retired businessman from the community, has relationships with local employers such as Ace Hardware and Big John's Market that are willing to hire graduates, making it possible for 90 percent of ARC graduates—on average seven men per month—to be working in the area within a week of graduation.
"That's his passion, making sure our men are prepared to go out and succeed," said Lt. Joe Alvarez, Lytton Springs ARC administrator. "The local businesses like to hire our graduates because of the discipline they have. We tell them, 'Get up, get dressed and show up,' and we believe our success rate is in part due to a community that embraces what we have going on here."
Alvarez said the community is so supportive that 70 percent of graduates relocate their families to the area.
Pasadena  
The Pasadena Tabernacle Culinary Arts and Hospitality Training Program launched its nine-week pilot program in late February for individuals transitioning out of the Pasadena ARC. It aims to prepare individuals for employment in the food services and hospitality industries and to provide another point of connection to the corps.
Twice a week, culinary arts instructor Donnetha Wallace teaches a four-hour class to 10 participants, leading to a National Restaurant Association ServSafe Certification.
The corps' employment and housing specialist, Victoria Scott, is now connecting with local restaurant owners and managers to establish partnerships for further training and job opportunities.