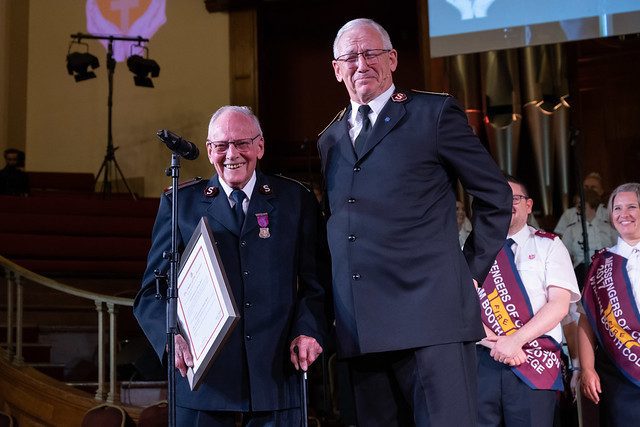 Salvation Army General admits Commissioner Harry Read to the Order of the Founder
By Jonathan Roberts, Lt. Colonel –
General Brian Peddle admitted 95-year-old Commissioner Harry Read to the Order of the Founder, The Salvation Army's highest honor, during recent commissioning celebrations for the Messengers of Compassion Session in the United Kingdom Territory with the Republic of Ireland. 
"God bless the newest Salvation Army officers," the General said after he was invited to the platform by Territorial Commander Commissioner Anthony Cotterill. Referring to recent commissioning events he had attended in the Indonesia Territory and Canada and Bermuda Territory, he declared: "God is blessing The Salvation Army around the world." Turning to the cadets and new lieutenants, he added, "The evidence is in people just like these."
A video about Read recalled his World War II service, for which in 2016 he was made a Chevalier (knight) of the Légion d'honneur—the highest French order of merit—and detailed his lifetime of international service as a Salvation Army officer, including his ministry as a writer. The video also showed the commissioner's recent skydive to commemorate the 75th anniversary of the D-Day landings and his meeting with a German D-Day veteran, who he told: "We are brothers."
Read, who—like the audience—clearly knew nothing about the award in advance, made his way to the platform where he saluted the General and acknowledged the congregation, which had risen to its feet in prolonged and enthusiastic applause and remained standing throughout the presentation. The General revealed that there had been many suggestions on social media that the commissioner be admitted to the order. "As if I can't make good decisions on my own!" he joked. 
The General read the citation, which stated that Read was admitted to the Order of the Founder "in recognition of a life of outstanding Christian witness in word, verse and deed spanning 75 years, with a recent and relevant witness through social media captivating a global audience with the authentic message of reconciliation, hope and peace." He then admitted Read to the Order of the Founder and directed that his name be inscribed on the roll of the order, dated July 6. "God bless Commissioner Harry Read," Peddle said, pinning the Order of the Founder medal to Read's tunic as the congregation again gave appreciative applause. 
"I count it a great privilege and honor to be made a member of the Order of the Founder," responded Commissioner Read. "I've enjoyed life so much. I've lived a full life…and I'm grateful for all the love and support that has come my way over recent years."
A live stream of the meeting ensured that thousands of people shared in the special occasion. Many from around the world responded with words of congratulations on social media, with comments such as: "Just having breakfast in Melbourne and saw this on Facebook. It has made my day. Commissioner Read … is a spiritual giant who has achieved so much in a long life, and continues to serve faithfully;" "I can't think of anyone more deserving;" "A spiritual giant! … An enduring inspiration, Christian leader, gentleman and all-round top bloke."  
The Order of the Founder was instituted by General Bramwell Booth in 1917 to mark "outstanding service rendered by officers and soldiers such as would in spirit or achievement have been specially commended by the Founder."
Originally posted on International Headquarters