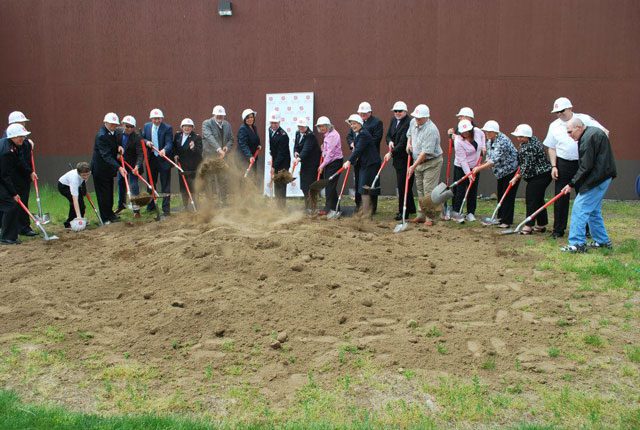 Gresham Corps expanding its services
Corps breaks ground for new social services building.
The Salvation Army Gresham Corps in Portland, Ore., broke ground May 16 on an additional 13,165 square feet, increasing the space for social services by 240 percent—potentially resulting in over 400 more families being helped each month.
The facility will include a new commercial kitchen, 100-seat dining room, increased food storage and distribution area, "shopping style" food pantry, case-management and family services offices, a covered outdoor gymnasium, and more recreational activities.
"We are beyond excited to see this expansion happen," said Major James Sullivan, Gresham corps officer. "We are strategically located in a community that needs our services… . By expanding the size of our building, we will be able to do so much more in the community itself, provide more activities for youth, and feed more people, God-willing."
Gresham Mayor Shane Bemis joined the ceremony, along with Colonel Dave Hudson, Western territorial chief secretary, and Lt. Colonel Judith Smith, Cascade divisional commander..
The corps is located in the high-need Rockwood area of Gresham, where 90 percent of the students in the two elementary schools closest to the corps receive free or reduced cost lunches. In addition, thousands of seniors in the area live on fixed incomes and rely on food stamps.
Donations are needed to sponsor furnishings and equipment items including kitchen equipment, tables and chairs, recreational equipment, and outdoor hoops and benches.
Donors may also purchase a brick or tile representing their support of The Salvation Army for the life of the building. The bricks range in price from $100-$500 and will fill an outdoor entryway.
For more information or to make a financial donation, contact Major Sullivan at 503-661-8972 ext. 201.