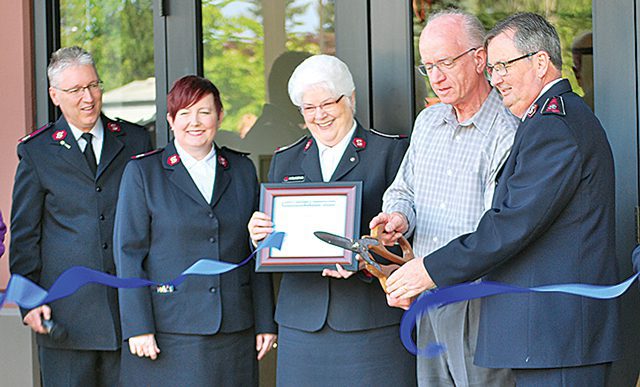 Gresham Corps expansion to meet growing needs
New social services center and covered outdoor gymnasium open
By Teresa Steinmetz – 
The Salvation Army Gresham, Ore., corps held a dedication and ribbon cutting May 1, celebrating the completion of the second and final phase of its expansion with a new social services center and covered outdoor gymnasium.
Located just outside of Portland, The Salvation Army Gresham Center for Worship and Service assists more than 800 families a month with food boxes and other essential services, and hundreds of children with afterschool and youth programs. The 9,378-square-foot building now has an additional 13,165 square feet of space for ministry.
"This project is the result of a community recognizing the need to provide a safe place for those who are looking for a hand up, a smile and a word of encouragement," said Lt. Colonel Judith Smith, Cascade divisional commander. "It is an honor for The Salvation Army to be that vessel of hope for men, women and children, and we are so very privileged to be entrusted with this task by the community. "
Corps Officers Majors James and Laura Sullivan and corps members celebrated the occasion with territorial leaders Commissioners James and Carolyn Knaggs; Captain Lisa Barnes, Southwest Division associate youth secretary; Shane Bemis, Gresham mayor; and Carla Piluso, state representative and former Gresham police chief. Longtime Portland TV personality Mike Donahue served as master of ceremonies.
"The work of The Salvation Army is crime prevention at its finest," Piluso said. Now, with the addition of these social service and recreational areas, The Salvation Army in Gresham is better able to transform lives and provide a positive environment."
The social service center now includes a full kitchen and 100-seat dining room with increased food storage and distribution areas, and space for case-management and family services offices. Regular meals will be served in afterschool and summer youth programs, and services to low-income seniors will expand to include weekly fellowship and meals. A new space for a "shopping style" food pantry delivery system is designed to increase self-esteem in participants and reduce food waste.
The covered outdoor gymnasium includes a full-court and two half-court basketball floor with six hoops, providing space for recreation.
Smith said, "This is not only an investment in a building, but an investment in the future of thousands of individuals and families in the greater Gresham community."