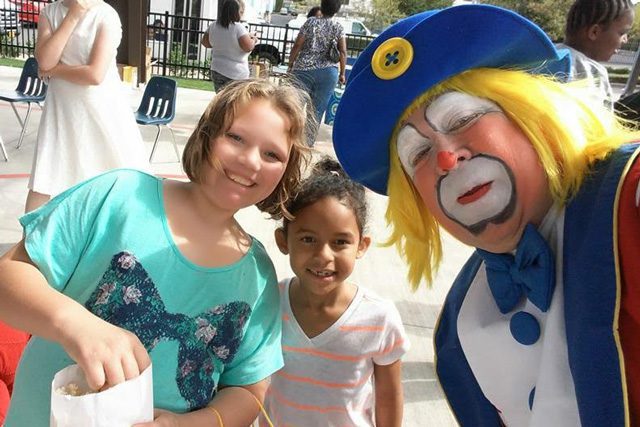 Gresham Corps: 'church without walls'
Corps outreach meets community need.
Looking to expand its community outreach, The Salvation Army Gresham Corps in Portland, Ore., welcomed newcomers through a series of outdoor meetings.
"Thank you so much for inviting my family to The Salvation Army; I am so glad Corey and I have found not only a church, but a family in Christ," said Regina Burnett, who came with her daughter to the Gresham Corps' "Family Fest" and outdoor worship service.
The event was the third of three monthly outdoor Sunday morning worship services held at the corps' new outdoor basketball court this summer.
"They're all calling us a 'church without walls,' which is exactly what we want to be," said Corps Officer Major Laura Sullivan. "The church is the people not the building. And the people in our church are getting out of the building and into the neighborhood."
More than 20 corps volunteers spread the word through flier distributions in local low-income housing complexes nearby. Their efforts paid off as a majority of those in attendance came from the immediate neighborhood.
Family Fest featured clown and magician "Joshua Appleseed" (Lt. Walter Kaptain), who provided the morning gospel message; the Gresham Corps Worship Team, which provided music; plus cotton candy, slushies, popcorn, a jump house, cake walk, photo booth, crafts and face and fingernail painting.
"The results have been amazing," said Corps Officer Major James Sullivan. "Not only did more than 200 come to the last Family Fest and outside worship service, but we have been able to follow up on many of them, inviting them to corps programs, family nights and worship services. At our first Wednesday 'IGNITE' family night, there were 17 brand new visitors, whose first touch was Family Fest. And eight of them stayed for adult Bible study!"
The corps seems to be meeting a community need.
"Our neighborhood really needs this," said corps soldier and mother of four, Jane Woodin. "There is so little to do in our neighborhood that doesn't cost money. My kids are having such a great time. I love my Salvation Army family."