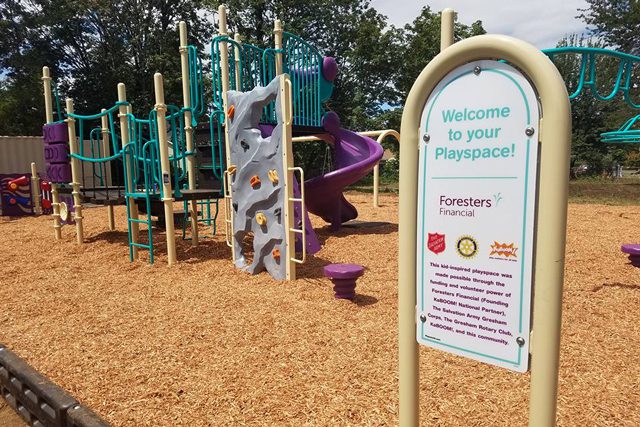 Gresham Corps celebrates new playground
KaBOOM!, Foresters Financial and volunteers construct new play site in Portland, Ore.
A new playground at The Salvation Army Gresham Corps will entertain more than 1,000 children and their families in this Portland, Ore., neighborhood. In fewer than eight hours, more than 200 volunteers from Foresters Financial, non-profit KaBOOM!, Gresham Rotary, Gresham Corps and community volunteers created the play space.
"What an honor and a privilege it is to be a part of bringing this new playground to our Rockwood Community," said Gresham Corps Officer Captain Matthew Madsen. "The more we can engage and encourage families and kids to play together and stay safe, the better.  We are looking forward to seeing many happy faces playing there this summer."
The playground design is based on drawings created by neighborhood children at a special Design Day event held in May when community members met with organizers from KaBOOM! and Foresters Financial to design their dream playground.
"We believe in enriching lives and building strong communities–that's our purpose," said Tony Garcia, President and CEO, Foresters Financial. "Playgrounds are important to communities, providing a public space where children can play safely, families can spend quality time and the community can come together. An investment in a playground is an investment in community, and we are happy to provide the Portland community with a place that families can enjoy for years to come."
Green spaces and safe play structures where children and families can enjoy and spend time together are sparse in many high density communities. Playing outdoors is an important part of every child's healthy development and the creation of this new playground will allow thousands of children to play safely and be active in their community.
KaBOOM! is the national non-profit dedicated to giving all kids–particularly those growing up in poverty in America–the childhood they deserve filled with balanced and active play, so they can thrive. Since 1996, KaBOOM! has collaborated with partners to build, open, or improve nearly 16,300 playgrounds, engaged more than one million volunteers, and served 8.1 million kids.


Foresters Financial, an international financial services provider, helps families reach their financial goals, protect themselves and make a lasting difference in their communities. This year, Foresters and KaBOOM! are proudly celebrating the 10 year anniversary of  their partnership. Since 2006, Foresters has invested more than $11.5 million with KaBOOM! to build more than 130 playground–including 3 in Oregon–across the US and Canada by the end of 2016. Over their 15-year lifespan, these playgrounds will provide more than 4.5 million children and their families with an opportunity to spend quality time together and enhance family well-being.
Foresters Financial is a KaBOOM! founding partner and national partner. Since 1996, KaBOOM! has been dedicated to the bold goal of ensuring that all children get the balance of active play they need to become healthy and and successful adults because "play matters."