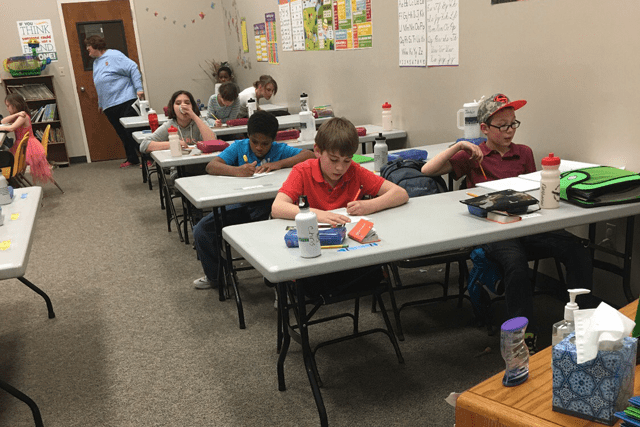 Great Falls gets ready for new school year
At its after-school program, The Salvation Army in Great Falls, Montana, helps students successfully make it through the school year, offering homework assistance and one-on-one tutoring. When their homework is done, the kids can enjoy non-academic activities like singing, sports, arts and crafts, and field trips.
Assistant Corps Officer Captain Marianne Brands oversees all aspects of the program, and Shannon Pearson facilitates it with volunteer assistance. A T. L. Williams grant provides funds for the program.
"Captain Marianne and her team have taken the after-school program from a concept to something truly incredible," Corps Officer Captain Monica King said. "We are amazed by the reports we are receiving from the school and parents. The improvement in our students both academically and behaviorally the first year more than exceeded our expectations. We can't wait to begin our second year in just a few weeks!"
In its first year, the program provided homework and reading assistance to 19 children in first through sixth grade. The plan is to serve up to 25 students in the new school year.
The program goal last season was for 60 percent of the enrolled students to improve their school performance by one letter grade. The program exceeded that goal—83 percent of the children improved in school by at least one letter grade.
The kids are gaining more than reading and mathematics skills at the after-school program.
"This year, I have learned to be kind," said Alijah, a participant.
His mother gives the staff a lot of credit for Alijah's success.
"The love and patience the staff have given my son have been priceless," she said. "This program has given him a positive support system along with great values he will carry throughout his life. He achieved honor roll and his attitude has been positively uplifted. I couldn't have put him in a better after-school program."
Some participants come from low-income households, where parents may lack the educational experience to assist their children with homework. By helping students achieve academic success and develop a positive outlook about school, the cycle of poverty may be broken.
Christopher and Aryonna also participated in the program.
"Five stars—they had lots of fun, played games and got the help they needed on homework," their grandfather said. "They are learning more things and their behavior and attitudes are getting better. Looking forward to next year."
The volunteers who gave their time found that they in turn received something worthwhile.
"Mrs. Pearson, the director, has taught me so much about perseverance, courage and enduring strength," Rebecca Lee said. "She is incredibly patient, kind and so very strong. The students have changed under her beautiful and calm daily interactions; they truly have blossomed and learned to be better focused and determined to succeed in life. We are extremely blessed to have her steady guidance… I am a better person for having been a part of this program!"