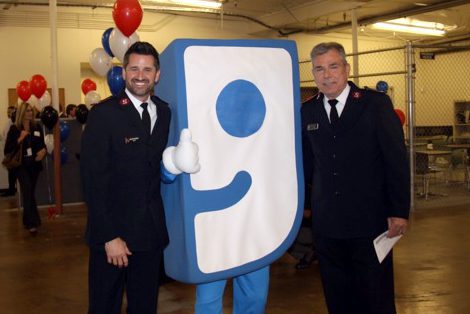 Finding jobs for Phoenix
The Salvation Army joins forces with Goodwill to aid job seekers
By Melany Stroupe –
With an unemployment rate of 6.9 percent, Arizona ranks higher than most states, leaving many families and individuals facing dire straits with the loss of a job; some even face homelessness. The Salvation Army has always provided hope in those circumstances, and thanks to a new partnership with Goodwill, a new avenue of hope is available for job seekers.
For the first time ever, The Salvation Army and Goodwill are partnering to offer employment services. On May 13, Goodwill opened a Career Center inside The Salvation Army Herberger Campus in Phoenix.
The new Career Center, open from 8:30 a.m. to 12:30 p.m., Monday through Friday, is equipped with an on-site career advisor, computers, printers, Internet access and telephones. The advisor provides assistance with resume writing, interviewing skills and job search strategies, as well as hosting hiring events.
"The Salvation Army has always provided for basic needs such as shelter, food, rental assistant and utility assistance" said Major John Brackenbury, Valley of the Sun program coordinator. "This new Career Center is located just steps away from our family shelter and our social services office. We hope our clients take advantage of this valuable resource that can assist in finding long term employment."
The Career Center is located in one of the poorest zip codes in Phoenix. It not only serves Salvation Army clients, but neighbors and other shelters in the surrounding area. As the word spreads, the Career Center will extend its hours.
"We are really excited to work with The Salvation Army because of their mission of helping those in need," said Kimberly Hall, director of career services for Goodwill.  "With our two organizations collaborating together, we can reach more people and help more people."