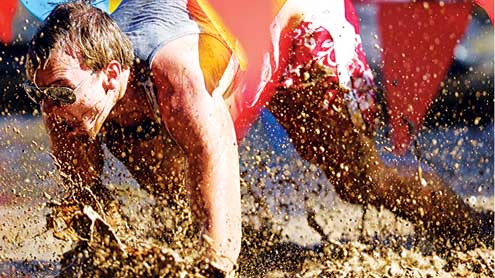 Good "clean" fun
The Malibu Dirt Dash and Mud Run
by Robert Brennan
More than 800 running enthusiasts—and those who didn't mind getting dirty—gathered at The Salvation Army's Mt. Crags and Gilmore camp facilities in Malibu Canyon, Calif., for this year's Malibu Dirt Dash and Mud Run.
Although this was the fifth year a run has been hosted here, it was the inaugural mud run, which, based on the stellar turnout, attracted people from all over Southern California. The traditional 10k and 5k courses attracted the more serious runner, but the hit of the day was the 5k mud run, which incorporated obstacle course challenges and culminated with several trenches full of good "clean" mud for the participants to navigate.
"This event was proof positive that when we are willing to 'get dirty' and 'get busy,' not only can we have a lot of fun, but we can accomplish great things," said Divisional Youth and Candidates' Secretary Captain Matthew Madsen, who oversaw the day's events. "Many have referred to The Salvation Army as "Christianity with its sleeves rolled up." Today, we didn't care about the sleeves…but we sure did get dirty and had a great time…while supporting a vital ministry for the young people of Southern California." Madsen's backed up his sentiments with several dives into the mud pit himself.
Each year, The Salvation Army Camp Mt. Crags and Camp Gilmore provide more than 2,000 youngsters, ages 7-16, with recreational and educational activities in a safe and enriching environment. All funds raised through the Malibu Canyon Dirt Dash will directly benefit low-income and at-risk youth who otherwise could not afford a week at summer camp.
The Salvation Army is grateful to this year's title sponsor the Dole Fresh Fruit Company. Other key supporters include TrueSense Marketing, Aramark, Grizzard Communication Group, and the Runnergy and Phidippides running shoe store specialty shops.