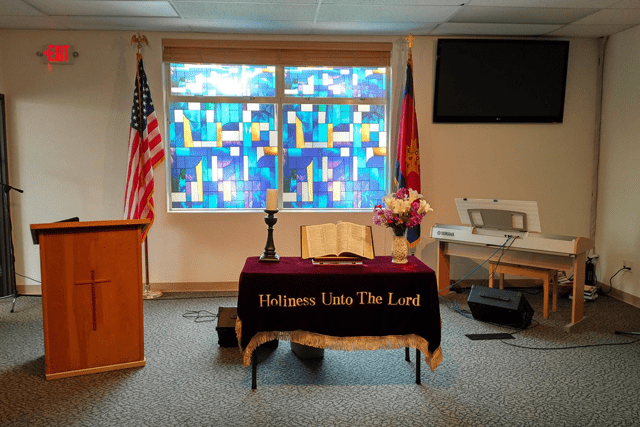 Gift brightens growing Newport Corps
The Salvation Army Newport (Oregon) Corps received a donation from a corps member who wishes to remain anonymous to be used specifically for the purchase of a stained glass window. The donor hopes it will serve as a reminder to those entering the chapel that the Holy Spirit dwells in and through the ministry there.
"We are excited that our corps is growing, and it was the desire of the donor that this assist in the growth and be a reminder of God's blessings onto our local ministry," said Corps Officer Lt. Nathan Perry, who leads the corps with his wife, Corrin.
Perry said the corps also recently dedicated new mercy seats, donated by a congregation family who created them on their own.
Contributing to the growth is the success of the corps' Coastal Music Conservatory, a semester-based program that teaches elementary students brass, guitar, vocals and timbrels. At the last semester-end recital in the corps' parking lot, neighbors watched from their porches or walked over to support the performers.
In addition, in May the Perrys started broadcasting a sermon each Sunday morning live on KWPB-FM Christian radio, before heading to the corps to lead the Sunday service there. They hope to reach out to visitors to the seaside town, as well as to residents who are shut-in or to those yet unacquainted with The Salvation Army as a church.
"God is so great to us!" Perry said.