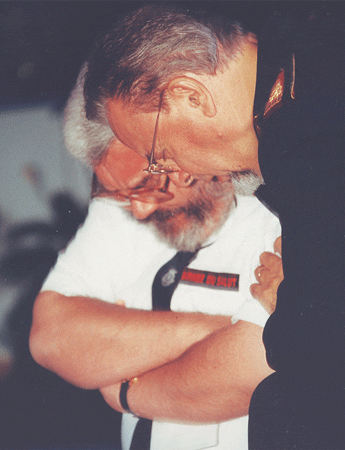 General John Gowans promoted to Glory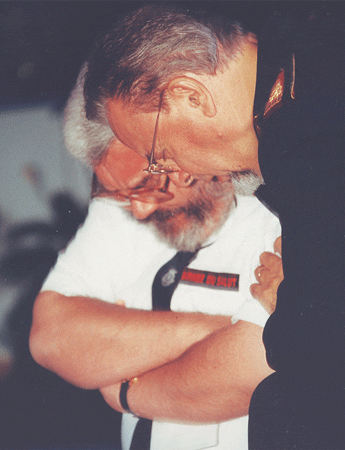 By Barry C. Swanson, Chief of the Staff
General John Gowans (Ret.), 78, was promoted to Glory from a nursing home in South London Dec. 8, 2012, after a long period of declining health.
Gowans, The Salvation Army's international leader from 1999 to 2002, will be remembered for his unique, colorful and larger-than-life personality.
"When God made John Gowans he threw away the mold," wrote General John Larsson (Ret.) in his foreword to Gowans's autobiography. "Into the gift-mix of this original he poured the potential of an unconventional thinker, an arresting speaker and a charismatic leader. He added the dynamism of a man of action and the creativity of a poet, the ruggedness of an Elijah and the spiritual sensitivity of a John the Beloved. And he topped it all with a large dollop of humanity!"
These qualities marked his term of office as General. Gowans was passionate about the Army's fundamental mission, memorably defining it as "saving souls, growing saints and serving suffering humanity." He boldly reformed the conditions of service for officers, in the process surveying every officer in the world. He markedly widened the advisory circle to the General by creating the General's Consultative Council. He unfailingly challenged his hearers around the world through messages that were vivid, pointed and prophetic. No one present at the International Millennial Congress 2000 held in Atlanta will ever forget the impact of his inspired preaching on that occasion.
Gowans leaves a priceless legacy of more than 200 songs he wrote, many originating in the 10 musicals he co-authored with Larsson. His ministry will also live on through the three books of prayer poems he wrote under the title "O Lord," which reveal his gifts of insight, warmth and humor. In retirement, Gowans influenced thousands by authoring "Words of Life" for several years.
Gowans was born in Blantyre, Scotland, on Nov. 13, 1934, of officer parents. He entered the International Training College, London, in 1954 as a cadet of the Soulwinners Session. There he met Cadet Gisèle Bonhotal, who had entered training from Paris, and they married in 1957. They have two sons, John-Marc and Christophe, and four grandchildren.
John and Gisèle Gowans served as corps officers in the then British Territory for 16 years, held administrative appointments in their home territory and also in the USA Western Territory, and were divisional leaders in both of these territories. They served for 11 years in France, in time becoming the territorial leaders. This was followed by territorial leadership of the Australia Eastern and U.K. territories.
The Thanksgiving Service for his life and ministry took place Dec. 14, 2012, at William Booth College in London, with General John Larsson (Ret.) presiding over a gathering of more than 450 people. The congregation included General Linda Bond and General Shaw Clifton (Ret.), along with leaders from International Headquarters.
Read tributes to Gowans by many of these Army leaders in the enclosed four-page insert.