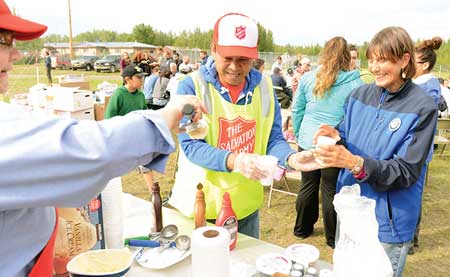 Galena flood creates emergency
The Army and multiple agencies work together to respond to crisis in Alaskan town.
When a dam recently burst in Galena, Alaska, thousands of gallons of Yukon River water spilled into the valley—a manageable flood until an ice jam formed, creating a need for emergency evacuation and leaving more than half of the town's population homeless.
Jenni Ragland, The Salvation Army Alaska Division's Emergency Disaster Services representative, worked with FEMA to relocate flood victims to Fairbanks and Army officers assisted in distributing salmon to approximately 75 villagers remaining behind.
John Fulton, FEMA Mass Care Group supervisor for flood recovery in Galena, was amazed that so many different organizations—including The Salvation Army, Bureau of Land Management (BLM), Alaska Fire Service and AmeriCorps—with different philosophies could work together so well in a challenging disaster scenario.
"We have a unique setting at the BLM kitchen. We have what is called a 'unified command' and we are utilizing Bureau of Land Management kitchen staff, Salvation Army kitchen staff, FEMA Mass Care staff and the support of federal agencies and state agencies like the United States Department of Agriculture and the Department of Education, and partners like Food Bank of Alaska," Fulton said.  "Knowing that all the pieces came together—and there could have easily been bumps in the road between different agencies with different philosophies—seeing that it all came together is making me smile."
Mark Wilson, assistant program manager for Minnesota/Iowa AmeriCorps who led the AmeriCorps response in Galena, said teamwork is the key to taking action and getting work done.
The Army historically has offered comfort, encouragement and practical support for extended periods during disasters, but Galena has been unique.
"It's been amazing to see how welcoming the people of Galena are in the midst of their own difficulties and challenges," Ragland said. "Just to see the people and how resilient they are. Living in a community that is fairly isolated, the expectation is they take care of themselves. But it is nice…to let them know they are not alone."
To date, the Army has served 14,000 meals, 135 drinks and 401 snacks and has touched 581 people with emotional and spiritual care. It has collectively given 884 hours to the people of Galena.
On Sept. 23, survivors will receive meals prepared at The Salvation Army's kitchen, packed by FEMA Corps members and shipped by air.