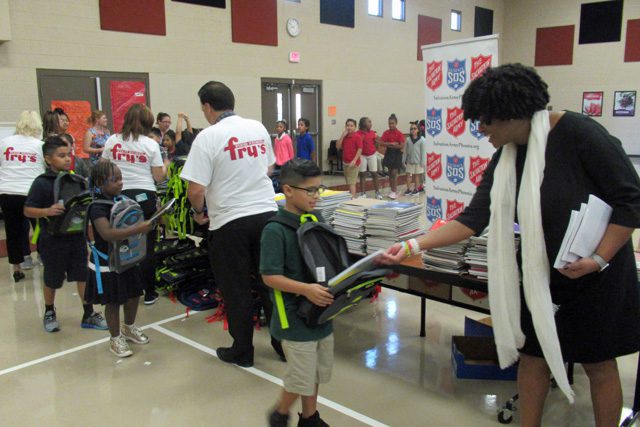 Fry's partnership brings people together in Arizona
By Kristin Marguerite Doidge –
When there's a need in Arizona, Fry's Food Stores provide a way.
When Arizona teachers went on a historic walkout for a week last spring, many children were left without the lunch and snacks they depend on while schools all over the state were closed. That's when Fry's and The Salvation Army sprung into action—working together to provide enough bread, peanut butter, jelly and apples to feed 1,700 kids and families in need per day.
It's just one of the most recent ways the two organizations have been working together for more than a decade to help bring people together and defeat hunger in local communities.
"We're proud to stand with The Salvation Army," said Pam Giannonatti, Kroger Corporate Affairs Manager, Fry's division. "Our partnership has just grown over time and built even more momentum."
Giannonatti, who has been with Fry's for 35 years – many of those working directly with the community and The Salvation Army – is most excited about how that momentum will feed even more families this year, especially at the holidays.
In Phoenix, The Salvation Army and Fry's are expecting more than 1,000 people to attend their annual Thanksgiving meal and more than 5,000 people to attend their annual Christmas meal, which are both hosted at the Phoenix Convention Center. Thousands more who are homebound will receive meals delivered to them as well, thanks in large part to the generosity of Fry's, which donates food and a refrigerated truck for the preparation of 6,500 meals.
The people of Arizona are also taking part in helping their neighbors. Last year, as part of Fry's "Big Give" initiative, customers shopping at their Valley locations raised roughly 4,400 turkey donations and more than $12,000 in monetary donations using a scan card system at the registers.
"Our customers are very giving," Giannonatti said. "Putting those turkeys at the tables—something most of us take for granted—means so much."
Major Nancy Dihle, who, as the Metro Phoenix Program Director works closely with Fry's, said Giannonatti is the one who personally helps make the partnership so special.
"She is 'Miss Community,' and truly believes in the process," said Dihle, noting that each year, Giannonatti and her family wake up early on Christmas morning to help coordinate the delivery of meals for the homebound.
With the help of corporate partners, donors and volunteers, the complimentary Christmas dinner is open to the public and includes spiritual care, live entertainment, photos with Santa, a toy room, as well as additional kids' activities and free haircuts.
"People are so gracious. It's the same people who come back every year to serve," Giannonatti said. "We've all become good friends."
Dihle said it's Fry's entire leadership team that helps lend a hand for the little ones in preparation, helping to sort and pack toys for 9,000 local children: "It's not only the gift of money and resources, but the gift of time from their employees."
One of the most impactful ways Fry's associates get involved in helping the Army serve is through its "Big Ring" initiative at all Arizona's Fry's Food Stores in December. For an entire day from 8 a.m. to 8 p.m., Fry's associates at 122 stores volunteer as bell ringers for the annual Red Kettle campaign. They tend to be some of the highest producing kettling locations across the Western Territory and second nationally.
Their generous volunteer efforts mean that more of the donations raised can go to funding many vital Salvation Army social service programs, which more than 25 million Americans depend on, including food for the hungry, relief for disaster survivors, assistance for the disabled, outreach to the elderly and ill, clothing and shelter for the homeless, and opportunities for underprivileged children in 5,000 communities nationwide.
The Salvation Army in Tucson is working with Giannonatti to plan a Red Kettle Kickoff ceremony at a Tucson Fry's location in mid-November.
For her, whether it's partnering to provide healthy snacks and school supplies, or holiday meals and fellowship for those in need, it's all part of the "zero hunger, zero waste" ethos that drives Fry's corporate mission.
"We want people to feel valued and important," Giannonatti said. "We're building relationships with partners that have the same goals so we can reach out to each other and say 'what can we do?'"